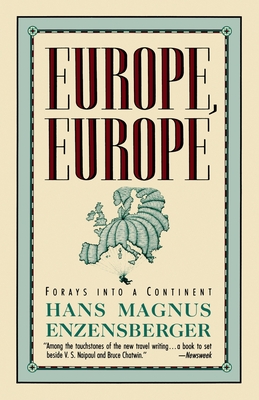 Europe, Europe: Forays Into a Continent (Paperback)
Forays Into a Continent
Pantheon Books, 9780679731597, 336pp.
Publication Date: September 19, 1990
Description
In this highly acclaimed and entertaining book, already "among the touchstones of the new travel writing" ("Newsweek"), one of West Germany's leading authors takes us on an insider's tour of Europe in the recent past. Focusing on Italy, Poland, Hungary, Sweden, Spain, and Portugal, he describes how Europe has been moving toward a new identity.
Enzensberger makes a witty and knowledgeable traveling companion, delving into surprising corners and byways from the back alleys of Budapest to the halls of the Italian mint and striking up conversations with everyone from bankers to revolutionaries, astrologers to apparatchiks. In the process, he suggests that Europe's strength lies increasingly in embracing diversity and improvisation, not bigness and regimentation. He enables us to see with fresh eyes one of the most exciting parts of the world today.
About the Author
Hans Magnus Enzenberger is internationally known as an essayist, journalist, and poet. Among his previous books are Politics and Crime, and The Consciousness Industry.
Praise For Europe, Europe: Forays Into a Continent…
"Spirited, acute, and brilliantly observant."
—The New York Times

"[Enzensberger is] a raconteur of mordant wit . . . a trenchant political thinker . . . a pleasure to read."
—Newsweek

"[Enzensberger's] piercing perception, his talent for evoking astonishing scenes and persons . . . and finally his angry loyalty to truth, make Europe, Europe a collection to which I'll resort for inspiration again and again."
—The New York Review of Books
Advertisement