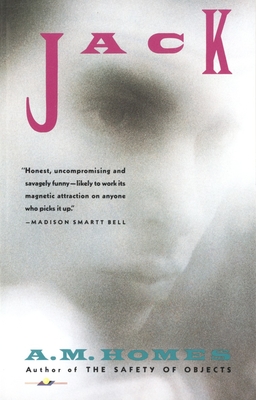 Jack (Paperback)
Vintage Books USA, 9780679732211, 220pp.
Publication Date: September 5, 1990
Description
In Jack, A. M. Homes gives us a teenager who wants nothing more than to be normal--even if being normal means having divorced parents and a rather strange best friend. But when Jack's father takes him out in a rowboat on Lake Watchmayoyo and tells his son he's gay, nothing will ever be normal again. Out of Jack's struggle to redefine what "family" means, A. M. Homes crafts a novel of enormous humor, charm, and resonance, the most convincing, funny, and insightful novel about adolescence since The Catcher in the Rye.
Praise For Jack…
"A moving novel, and a very refreshing one. Jack is such an engaging, attractive human being, it's a pleasure to believe in him." —David Foster Wallace

"The engaging, doggedly funny [Jack] is likable from the first paragraph, a good kid caught in circumstances too much for him. And in the particulars of those circumstances, A. M. Homes touches upon something unique. Ms. Homes handles the big subjects subtly, deftly and with an appealing lack of melodrama."—The New York Times Book Review

"A. M. Homes has created a most endearing teenager, and an intensely real world around him .... A fine book."—Hilma Wolitzer
Advertisement