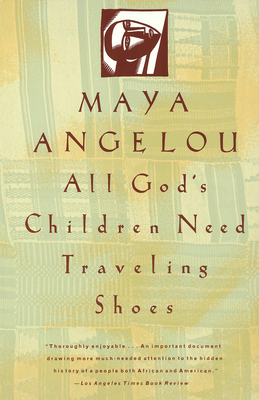 All God's Children Need Traveling Shoes (Paperback)
Vintage, 9780679734048, 224pp.
Publication Date: June 4, 1991
* Individual store prices may vary.
Description
In 1962 the poet, musician, and performer Maya Angelou claimed another piece of her identity by moving to Ghana, joining a community of "Revolutionist Returnees" inspired by the promise of pan-Africanism. All God's Children Need Walking Shoes is her lyrical and acutely perceptive exploration of what it means to be an African American on the mother continent, where color no longer matters but where American-ness keeps asserting itself in ways both puzzling and heartbreaking. As it builds on the personal narrative of I Know Why the Caged Bird Sings and Gather Together in My Name, this book confirms Maya Angelou's stature as one of the most gifted autobiographers of our time.
About the Author
Poet, writer, performer, teacher, and director Maya Angelou was raised in Stamps, Arkansas, and then moved to San Francisco. In addition to her bestselling autobiographies, beginning with I Know Why the Caged Bird Sings, she also wrote a cookbook, Hallelujah! The Welcome Table, and five poetry collections, including I Shall Not Be Moved and Shaker, Why Don't You Sing? She died in 2014.
Praise For All God's Children Need Traveling Shoes…
"An important document drawing more much-needed attention to the hidden history of a people both African and American." —Los Angeles Times Book Review

"This is a superb account by a great woman who has embraced a difficult destiny with rare intelligence and infectious joie de vivre." —The Boston Globe 

"Maya Angelou regards the world and herself with intelligence and wit; she records the events of her life with style and grace." —The Washington Post Book World 

"Angelou's journey into Africa is a journey into herself, into that part of every Afro-American's soul that is still wedded to Africa, that still yearns for a home." —Chicago Tribune Book World