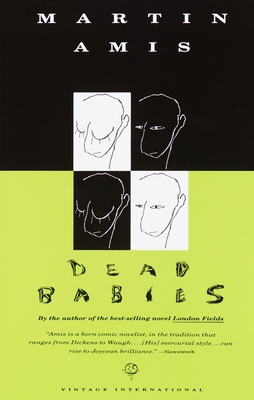 Dead Babies (Paperback)
Vintage, 9780679734499, 220pp.
Publication Date: April 3, 1991
Description
If the Marquis de Sade were to crash one of P. G. Wodehouse's house parties, the chaos might resemble the nightmarishly funny goings-on in this novel by the author of London Fields. The residents of Appleseed Rectory have primed themselves both for a visit from a triad of Americans and a weekend of copious drug taking and sexual gymnastics. There's even a heifer to be slugged and a pair of doddering tenants to be ingeniously harassed. But none of these variously bright and dull young things has counted on the intrusion of "dead babies" -- dreary spasms of reality. Or on the uninvited presence of a mysterious prankster named Johnny, whose sinister idea of fun makes theirs look like a game of backgammon.
About the Author
Martin Amis is the best-selling author of several books, including London Fields, Money, The Information, and, most recently, Experience. He lives in London.
Praise For Dead Babies…
"Sparkling might not be the first adjective that springs to mind to describe a novel packed with the concentrated disgust which Dead Babies contains. Nevertheless, Martin Amiss version of the bleak and wrecky future that awaits a sex-and-drug-addicted society is so fizzing with style, so busy with verbal inventiveness, that the adjective is impelled upon one." -- Julian Barnes
Advertisement