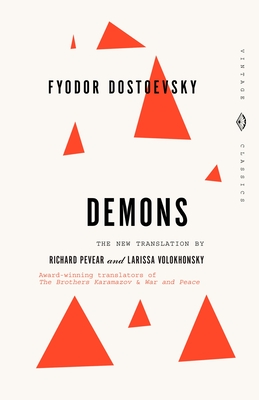 Demons (Paperback)
Vintage, 9780679734512, 768pp.
Publication Date: August 1, 1995
Description
Inspired by the true story of a political murder that horried Russians in 1869, Fyodor Dostoevsky conceived of Demons as a "novel-pamphlet" in which he would say everything about the plague of materialist ideology that he saw infecting his native land. What emerged was a prophetic and ferociously funny masterpiece of ideology and murder in pre-revolutionary Russia.
About the Author
About the Translators Richard Pevear has published translations of Alain, Yves Bonnefoy, Albert Savinio, and Pavel Florensky, as well as two books of poetry. He has received fellowships for translation from the National Endowment for the Arts, the Ingram Merrill Foundation, the Guggenheim Foundation, and a grant from the National Endowment for the Humanities in support of the translation of The Brothers Karamazov. Larissa Volokhonsky was born in Leningrad. She has translated the work of the prominent Orthodox theologians Alexander Schmemann and John Meyendorff. Pevear and Volokhonsky were awarded the PEN Book-of-the-Month Club Translation Prize for their version of The Brothers Karamazov. They are married and live in France
Praise For Demons…
"[An] admirable new translation of…Dostoevsky's masterpiece." –New York Review of Books

"The merit in this edition of Demons resides in the technical virtuosity of the translators…They capture the feverishly intense, personal explosions of activity and emotion that manifest themselves in Russian life." –New York Times Book Review

"Demons is the Dostoevsky novel for our age…[Pevear and Volokhonsky] have managed to capture and differentiate the characters' many voices…They come into their own when faced with Dostoevsky's wonderfully quirky use of varied speech patterns…A capital job of restoration." –Los Angeles Times

With an Introduction by Richard Pevear
Advertisement