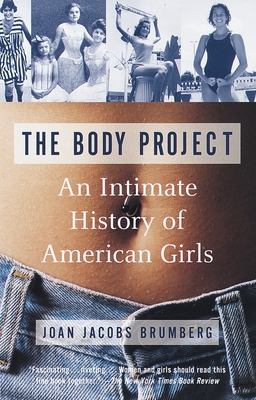 The Body Project: An Intimate History of American Girls (Paperback)
An Intimate History of American Girls
Vintage, 9780679735298, 336pp.
Publication Date: September 1, 1998
Description
A hundred years ago, women were lacing themselves into corsets and teaching their daughters to do the same. The ideal of the day, however, was inner beauty: a focus on good deeds and a pure heart. Today American women have more social choices and personal freedom than ever before. But fifty-three percent of our girls are dissatisfied with their bodies by the age of thirteen, and many begin a pattern of weight obsession and dieting as early as eight or nine. Why? In The Body Project, historian Joan Jacobs Brumberg answers this question, drawing on diary excerpts and media images from 1830 to the present. Tracing girls' attitudes toward topics ranging from breast size and menstruation to hair, clothing, and cosmetics, she exposes the shift from the Victorian concern with character to our modern focus on outward appearance--in particular, the desire to be model-thin and sexy. Compassionate, insightful, and gracefully written, The Body Project explores the gains and losses adolescent girls have inherited since they shed the corset and the ideal of virginity for a new world of sexual freedom and consumerism--a world in which the body is their primary project.
About the Author
Joan Jacobs Brumberg is the award-winning author of Fasting Girls: The History of Anorexia Nervosa and The Body Project. She is a Stephen H. Weiss Professor at Cornell University, where she holds a unique appointment teaching in the fields of history, human development, and women's studies. Her research and sensitive writing about American women and girls have been recognized by the Guggenheim Foundation, the National Endowment for the Humanities, the Rockefeller Foundation, and the MacDowell Colony. She lives in Ithaca, New York. Awards Brumberg has received include the Berkshire Book Prize for the best book by a woman historian, given by the Berkshire Women's History Conference (1988); the John Hope Franklin Prize for the best book in American Studies, given by the American Studies Association (1989); the Eileen Basker Memorial Prize for the best book in the area of gender and mental health, given by the Society for Medical Anthropology (1989); and the Watson Davis Prize for the best book in translating ideas for the public, given by the History of Science Society (1989).
Praise For The Body Project: An Intimate History of American Girls…
"The Body Project is a very informative, interesting history of how girls were raised and perceived by themselves and others. Each chapter provides a concise chronology of events and mindsets of many different issues. The events throughout this century have provided girls with increased freedom and knowledge; however, it has also brought about more risky situations and possibly even more self-consciousness about their bodies and appearance. We, as school psychologists, play an important role in helping adolescent girls (and even preadolescent females) realize that their bodies are not the most important aspect of themselves. They should learn to be proud of their accomplishments, character, and intelligence, and that external beauty is not a reflection of who they are as human beings. This may not be an easy task, but we, along with the rest of society, need to take these small steps in order to attempt to make a difference. I would recommend this book to anyone who works with girls of any and all ages as it provides good insight into not only the past and present perceptions, but implications and recommendations for the future as well." --The School Psychologist: A Publication of the New York Association of School Psychologists
Advertisement