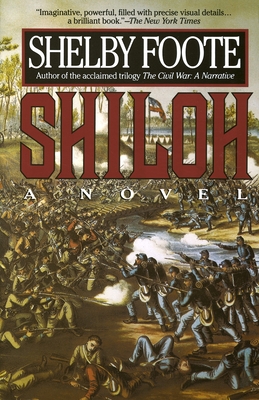 Shiloh (Paperback)
Vintage, 9780679735427, 240pp.
Publication Date: April 9, 1991
* Individual store prices may vary.
or
Not Currently Available for Direct Purchase
Description
This fictional re-creation of the battle of Shiloh in April 1862 is a stunning work of imaginative history, from Shelby Foote, beloved historian of the Civil War. Shiloh conveys not only the bloody choreography of Union and Confederate troops through the woods near Pittsburg Landing, Tennessee, but the inner movements of the combatants' hearts and minds. Through the eyes of officers and illiterate foot soldiers, heroes and cowards, Shiloh creates a dramatic mosaic of a critical moment in the making of America, complete to the haze of gunsmoke and the stunned expression in the eyes of dying men. Shiloh, which was hailed by The New York Times as "imaginative, powerful, filled with precise visual details...a brilliant book" fulfills the standard set by Shelby Foote's monumental three-part chronical of the Civil War.
About the Author
Shelby Foote was an American historian and novelist. He was born on November 7, 1916 in Greenville, Mississippi, and attended school there until he entered the University of North Carolina. During World War II he served as a captain of field artillery but never saw combat. After World War II he worked briefly for the Associated Press in their New York bureau. In 1953 he moved to Memphis, where he lived for the remainder of his life. Foote was the author of six novels: Tournament, Follow Me Down, Love in a Dry Season, Shiloh, Jordan County, and September, September. He is best remembered for his 3-volume history The Civil War: A Narrative, which took twenty years to complete and resulted in his being a featured expert in Ken Burns' acclaimed PBS documentary, "The Civil War." Over the course of his writing career, Foote was also awarded three Guggenheim fellowships. Shelby Foote died in 2005 at the age of 88.
Advertisement