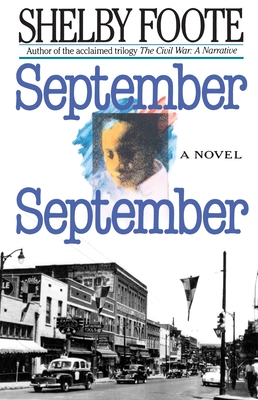 September, September (Paperback)
Vintage, 9780679735434, 316pp.
Publication Date: April 9, 1991
* Individual store prices may vary.
Description
In September 1957 the South is mesmerized by events in Little Rock, Arkansas, whose governor has called out the National Guard as part of his attempt to halt the integration of Central High School. And in Memphis, two white men and a white woman are planning to capitalize on the confrontation between the races by kidnapping the grandson of a wealthy black entrepreneur and pinning the crime on white supremacists. The problem is that Podjo, Rufus, and Reeny have only an amateur's understanding of what a kidnapping entails -- and a total, terrifying incomprehension of their victims.

In September September a magisterial historian of the Civil War charts its distant repercussions in the streets of the contemporary South. By turns wryly comic, ribald, and chilling, Shelby Foote's novel is at once a convincing thriller and a powerful tragicomedy of race.

September September has been adapted by Larry McMurtry for the Turner Network Television film Memphis, starring Cybill Shepherd.
About the Author
Shelby Foote was born on November 7, 1916 in Greenville, Mississippi, and attended school there until he entered the University of North Carolina. During World War II he served as a captain of field artillery but never saw combat. After World War II he worked briefly for the Associated Press in their New York bureau. In 1953 he moved to Memphis, where he lived for the remainder of his life.Foote was the author of six novels: Tournament, Follow Me Down, Love in a Dry Season, Shiloh, Jordan County, and September, September. He is best remembered for his 3-volume history The Civil War: A Narrative, which took twenty years to complete and resulted in his being a featured expert in Ken Burns' acclaimed Civil War documentary. Over the course of his writing career, Foote was also awarded three Guggenheim fellowships.Shelby Foote died in 2005 at the age of 88.