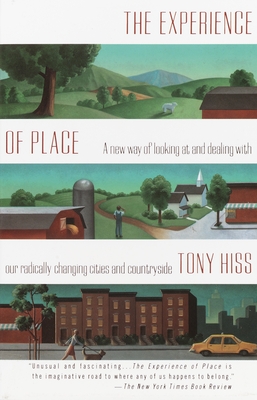 The Experience of Place: A New Way of Looking at and Dealing with Our Radically Changing Cities and Countryside (Paperback)
A New Way of Looking at and Dealing with Our Radically Changing Cities and Countryside
Vintage, 9780679735946, 256pp.
Publication Date: October 1, 1991
Description
Why do some places--the concourse of Grand Central Terminal or a small farm or even the corner of a skyscraper--affect us so mysteriously and yet so forcefully? What tiny changes in our everyday environments can radically alter the quality of our daily lives? The Experience of Place offers an innovative and delightfully readable proposal for new ways of planning, building, and managing our most immediate and overlooked surroundings.
About the Author
Tony Hiss has written over 12 books including The Experience of Place and In Motion. His books have explored subjects as varied as train travel, Hunanese cooking, giant pandas, the story of his family, and the future of New York City. He was a staff writer at the New Yorker for more than 30 years, has lectured around the world, and is currently a visiting scholar at New York University's Robert F. Wagner Graduate School of Public Service. He lives in New York with his wife, writer Lois Metzger, and their son.
Praise For The Experience of Place: A New Way of Looking at and Dealing with Our Radically Changing Cities and Countryside…
"A significant new book...has awesome implications for the future of real-estate development, land-use planning, architecture and health...Tony Hiss illuminates the real nitty-gritty meaning of the dawning environmental era." -- Boston Globe

Why do some places -- the concourse of Grand Central Terminal or a small farm or even the corner of a skyscraper -- affect us so mysteriously and yet so forcefully? What tiny changes in our everyday environments can radically alter the quality of our daily lives? The Experience of Place offers an innovative and delightfully readable proposal for new ways of planning, building, and managing our most immediate and overlooked surroundings.

"Tony Hiss...describes subtle but practical ways to improve mediocre places and transform even some unpleasant ones. Hiss's book itself is like a splendid place-experience: it draws one in, surprises and charms, and enhances the landscapes of the mind." -- Jane Jacobs

"To read [The Experience of Place]...is to come away convinced not only that things can be put right, but that the job is well underway."

-- Newsweek
Advertisement