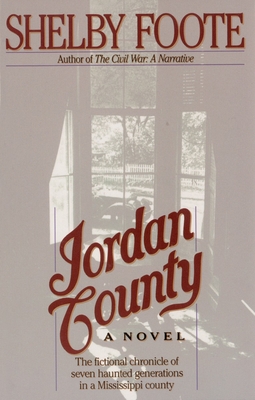 Jordan County (Paperback)
Vintage Books, 9780679736165, 304pp.
Publication Date: June 2, 1992
Description
Before Shelby Foote under took his epic history of the Civil War, he wrote this fictional chronicle -- "a landscape in narrative" -- of Jordan County, Mississippi, a place where the traumas of slavery, war, and Reconstruction are as tangible as rock formations. The seven stories in Jordan County move backward in time, from 1950 to 1797, and through the lives of characters as diverse as a black horn player doomed by tuberculosis and convulsive jealousy, a tormented and ineffectual fin-de-siecle aristocrat, and a half-wild frontiersman who builds a plantation in Choctaw territory only to watch it burn at the close of the Civil War. In prose of almost Biblical gravity; and with a deep knowledge of the ways in which history shapes human lives -- and sometimes warps them beyond repair -- Foote gives us an ambitious, troubling work of fiction that builds on the traditions of William Faulkner and Flannery O'Connor but that is resolutely unique.
About the Author
Shelby Foote was born on November 7, 1916 in Greenville, Mississippi, and attended school there until he entered the University of North Carolina. During World War II he served as a captain of field artillery but never saw combat. After World War II he worked briefly for the Associated Press in their New York bureau. In 1953 he moved to Memphis, where he lived for the remainder of his life.Foote was the author of six novels: Tournament, Follow Me Down, Love in a Dry Season, Shiloh, Jordan County, and September, September. He is best remembered for his 3-volume history The Civil War: A Narrative, which took twenty years to complete and resulted in his being a featured expert in Ken Burns' acclaimed Civil War documentary. Over the course of his writing career, Foote was also awarded three Guggenheim fellowships.Shelby Foote died in 2005 at the age of 88.
Praise For Jordan County…
"Mr. Foote's writing is marvelously exact and positive. His attitude toward his people is respectful , and human, as though he had thought about them a great deft and knew too much about them to take them for granted."--The New Yorker
Advertisement