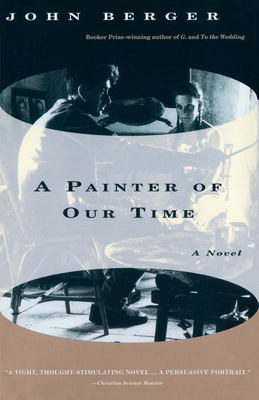 A Painter of Our Time (Paperback)
Vintage, 9780679737230, 208pp.
Publication Date: August 27, 1996
Description
From John Berger, the Booker Prize-winning author of G., A Painter of Our Time is at once a gripping intellectual and moral detective story and a book whose aesthetic insights make it a companion piece to Berger's great works of art criticism. The year is 1956. Soviet tanks are rolling into Budapest. In London, an expatriate Hungarian painter named Janos Lavin has disappeared following a triumphant one-man show at a fashionable gallery. Where has he gone? Why has he gone? The only clues may lie in the diary, written in Hungarian, that Lavin has left behind in his studio. With uncanny understanding, John Berger has written oneo f hte most convincing portraits of a painter in modern literature, a revelation of art and exile.
About the Author
John Berger was born in London in 1926. He is well known for his novels and stories as well as for his works of nonfiction, including several volumes of art criticism. His first novel, A Painter of Our Time, was published in 1958, and since then his books have included Ways of Seeing, the fiction trilogy Into Their Labours, and the novel G., which won the Booker Prize in 1972. In 1962 he left Britain permanently, and lived in a small village in the French Alps. He died in 2017.
Advertisement