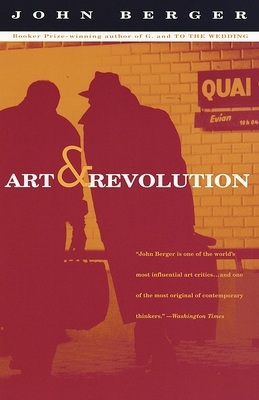 Art and Revolution: Ernst Neizvestny, Endurance, and the Role of the Artist (Paperback)
Ernst Neizvestny, Endurance, and the Role of the Artist
Vintage, 9780679737278, 192pp.
Publication Date: March 17, 1998
Description
In this prescient and beautifully written book, Booker Prize-winning author John Berger examines the life and work of Ernst Neizvestny, a Russian sculptor whose exclusion from the ranks of officially approved Soviet artists left him laboring in enforced obscurity to realize his monumental and very public vision of art. But Berger's impassioned account goes well beyond the specific dilemma of the pre-glasnot Russian artist to illuminate the very meaning of revolutionary art. In his struggle against official orthodoxy--which involved a face-to-face confrontation with Khruschev himself--Neizvestny was fighting not for a merely personal or aesthetic vision, but for a recognition of the true social role of art. His sculptures earn a place in the world by reflecting the courage of a whole people, by commemorating, in an age of mass suffering, the resistance and endurance of millions.
"Berger is probably our most perceptive commentator on art.... A civilized and stimulating companion no matter what subject happens to cross his mind."--Philadelphia Inquirer
About the Author
John Berger was born in London in 1926. He is well known for his novels and stories as well as for his works of nonfiction, including several volumes of art criticism. His first novel, A Painter of Our Time, was published in 1958, and since then his books have included Ways of Seeing, the fiction trilogy Into Their Labours, and the novel G., which won the Booker Prize in 1972. In 1962 he left Britain permanently, and lived in a small village in the French Alps. He died in 2017.
Advertisement