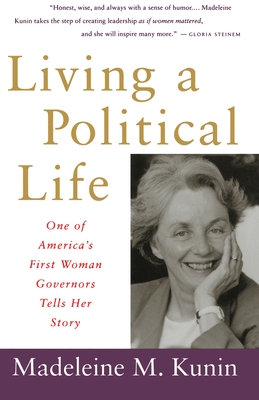 Living a Political Life (Paperback)
One of America's First Woman Governors Tells Her Story
Vintage, 9780679740087, 416pp.
Publication Date: March 14, 1995
* Individual store prices may vary.
Description
The first time Madeleine M. Kunin ran for office it was because she thought there ought to be more women in politics. In time she fulfilled that belief by becoming the first woman governor of Vermont. Throughout her career, Kunin found that the rules for women politicians were different: she would not be forgiven (nor would she forgive herself) for neglecting her family. She could not afford to display emotion at the wrong times lest she be thought "weak." And she would have to learn to play political hardball with the best of them while keeping her integrity.

In Living a Political Life, Kunin-who is now Deputy Secretary of the U.S. Department of Education-takes a frank look at the challenges that confronted her as she tried not just to succeed in politics but to set a precedent for other women. In doing so, she illuminates both what it means to be a woman and what it means to be a public servant and gives us a memoir as thoughtful and revealing as any to emerge from the corridors of power.
Praise For Living a Political Life: One of America's First Woman Governors Tells Her Story…
"In elegant and enlightening prose, Kunin...tries to understand the interplay of family, gender, and her pursuit of power.... [Her] forthright offering expands our understanding of who can be a success in politics." -- San Francisco Chronicle



"An honest book by an unusually introspective and literate politician." -- Washington Post Book World

"Madeleine Kunin speaks for all women who try to do it all. Her story. is our story ....She does it well, both the living and the telling."

-- Newsweek