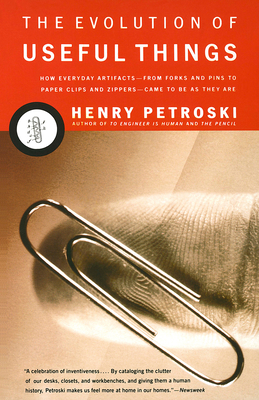 The Evolution of Useful Things (Paperback)
How Everyday Artifacts-From Forks and Pins to Paper Clips and Zippers-Came to be as They are.
Vintage, 9780679740391, 304pp.
Publication Date: February 1, 1994
* Individual store prices may vary.
Description
   How did the table fork acquire a fourth tine?  What advantage does the Phillips-head screw have over its single-grooved predecessor? Why does the paper clip look the way it does? What makes Scotch tape Scotch?

   In this delightful book Henry, Petroski takes a microscopic look at artifacts that most of us count on but rarely contemplate, including such icons of the everyday as pins, Post-its, and fast-food "clamshell" containers.  At the same time, he offers a convincing new theory of technological innovation as a response to the perceived failures of existing products—suggesting that irritation, and not necessity, is the mother of invention.
About the Author
Henry Petroski is the Aleksandar S. Vesic Professor of Civil Engineering and a professor of history at Duke University. The author of more than a dozen previous books, he lives in Durham, North Carolina, and Arrowsic, Maine.
Praise For The Evolution of Useful Things: How Everyday Artifacts-From Forks and Pins to Paper Clips and Zippers-Came to be as They are.…
"A celebration of inventiveness...By cataloging the clutter of our desks, closets, and workbenches, and giving them a human history, Petroski makes us feel more at home in our homes."- Newsweek

"Petroski is a valuable resource—an engineer who examines the simplest, most ubiquitous tools in our live with an appraising eye."- Washington Post Book World

"Mr. Petroski's case histories delightfully illustrate his thesis... You never know when you will turn a page and find some tiny corner of your mind enlightened."- The New York Times

"Petroski has an eye for the mundane that distracts and delights... [His] wealth of literary and cultural references runs from Aristotle... to Russell Baker... The book has substance."- Newsday