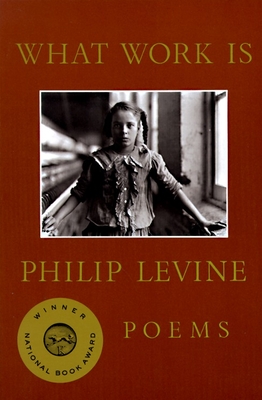 What Work Is
Poems
Paperback

* Individual store prices may vary.
Description
Winner of the National Book Award in 1991
 
"This collection amounts to a hymn of praise for all the workers of America. These proletarian heroes, with names like Lonnie, Loo, Sweet Pea, and Packy, work the furnaces, forges, slag heaps, assembly lines, and loading docks at places with unglamorous names like Brass Craft or Feinberg and Breslin's First-Rate Plumbing and Plating. Only Studs Terkel's Working approaches the pathos and beauty of this book. But Levine's characters are also significant for their inner lives, not merely their jobs. They are unusually artistic, living 'at the borders of dreams.' One reads The Tempest 'slowly to himself'; another ponders a diagonal chalk line drawn by his teacher to suggest a triangle, the roof of a barn, or the mysterious separation of 'the dark from the dark.' What Work Is ranks as a major work by a major poet . . . very accessible and utterly American in tone and language."
—Daniel L. Guillory, Library Journal
Praise For What Work Is: Poems…
"What Work Is gives a hymn-like quality to its eulogies and elegies. Levine's voice frequently blurs the line between poetic utterance and prayer . . . His lyrical compassion, anger, and hopefulness make him one of the most authentically moving poets of our age."
—Phoebe Pettingell, The New Leader
 
"It didn't seem possible that Levine could improve on his first working-class portraits, yet I feel these new poems are an improvement: an extra dimension of dignity has been conferred on his characters . . . the poems 'Fear and Fame,' 'Coming Close,' 'Every Blessed Day,' and the title poem are perhaps the most moving that Levine has written—tender without being sentimental, calm but not lacking in passion, written in a diction as clear and lucid as spring water."
—Alfred Corn, The Washington Post Book World
 
"Since the early 1960s Philip Levine has articulated in poetry the lives of the men and women who run machines, punch the time clocks, and work the assembly lines . . . What Work Is makes some of its severest poetry out of wounds inflicted on workers and the environments by manufacturing . . . New Selected Poems published simultaneously reminds us that he has been our preeminent poet of working life for several decades."
—Richard Tillinghast, The New York Times Book Review
Knopf, 9780679740582, 96pp.
Publication Date: April 21, 1992
About the Author
Philip Levine was born in 1928 in Detroit and was formally educated there, in the public schools and at Wayne University (now Wayne State University). After a succession of industrial jobs, he left the city for good and lived in various parts of the country before settling in Fresno, California, where he taught at the state university until his retirement. For twelve autumns he served as poet in residence at New York University. He has received many awards for his books of poems, including the National Book Award in 1991 for What Work Is and the Pulitzer Prize in 1995 for The Simple Truth. In 2011 he was appointed Poet Laureate of the United States. He divides his time between Fresno, California, and Brooklyn, New York.
Coverage from NPR
or
Not Currently Available for Direct Purchase