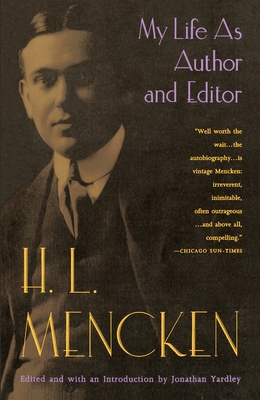 My Life as Author and Editor
Paperback

* Individual store prices may vary.
Description
H. L. Mencken stipulated that this memoir remain sealed in a vault for thirty-five years after his death. For good reason: My Life as Author and Editor is so telling and uproariously opinionated that it might have provoked a storm of libel suits. As he recounts his career as a critic, essayist, and editor of the ground-breaking magazine Smart Set, Mencken brings us face to face with the literary aristocracy of his day, from the dour womanizer Theodore Dreiser to F. Scott Fitzgerald, drowning his gifts in alcohol. Here, too, are the hacks, poseurs, and bohemian crackpots who flocked around them. Most of all, here is Mencken himself, defying censors and Prohibition agents with equal aplomb in an age when literature was a contact sport.
Vintage, 9780679741022, 484pp.
Publication Date: January 15, 1995
About the Author
H. L. Mencken was born in Baltimore in 1880 and died there in 1956. He began his long career as a journalist, critic, and philologist on the Baltimore Morning Herald in 1899. In 1906 he joined the staff of the Baltimore Sun, thus beginning an association that lasted until a few years before his death. He was coeditor of the Smart Set with George Jean Nathan from 1908 to 1923, and with Nathan he founded The American Mercury, a magazine of which he was sole editor from 1925 to 1933. He was the author of many books, most notably The American Language, Prejudices, Happy Days, Newspaper Days, Heathen Days, and Minority Report.