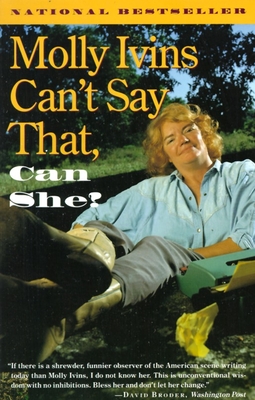 Molly Ivins Can't Say That, Can She? (Paperback)
Vintage, 9780679741831, 304pp.
Publication Date: September 15, 1992
* Individual store prices may vary.
Description
Whether she's writing about redneck politics in her native Texas or the discreet charms of Bushwazee, Molly Ivins in never less than devastatingly honest—and hilarious.  Our toughest, funniest, and savviest columnist delivers the goods on:

-Texas politics: "Well, our attorney general is under indictment.  He ran as 'the people's lawyer'; now we call him 'the people's felon.'"

-The flag burning debate: "Bush's last birthday cake was in the form of the American flag, and he ate it—stars, stripes, and all.  Think about where that flag wound up—I call that desecration."

-Beign a woman in Texas: "There are several strains of Texas culture: They are all rotten for women... One not infrequently sees cars or trucks sporting the bumper sticker "Have fun—beat the hell out of someone you love."
About the Author
Molly Ivins was born and raised in Texas. She has been a journalist for more than twenty years and has written for the Texas Observer, The New York Times, Time, and many other national magazines.  She has appeared on the Mac-Neil/Lehrer News Hour, Nightline, The Tonight Show, and Today. She currently lives in Austin, Texas, and writes a nationally syndicated column for the Fort Worth Star.
Praise For Molly Ivins Can't Say That, Can She?…
"If there is a shrewder, funnier observer of the American scene writing today that Molly Ivins, I do not know her. This is unconventional wisdom with no inhibitions.  Bless her and don't let her change."- David Broder, Washington Post

"A delight from start to finish... Molly Ivins proves that keen intelligence and a Southern accent are real good buddies... She has wise and often hilarious things to say." -The New York Times Book Review

"Wickedly funny."- Detroit Free Press

"Molly Ivins has birthed a book and it is more fun than riding a mechanical bull and almost as dangerous."- Ann Richards, governor of Texas.
or
Not Currently Available for Direct Purchase