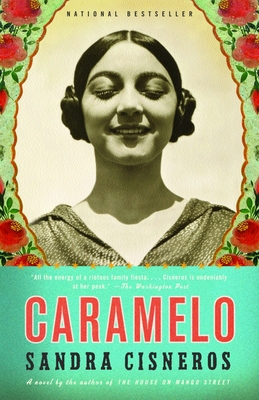 Caramelo (Vintage Contemporaries)
Paperback

* Individual store prices may vary.
Other Editions of This Title:
Digital Audiobook (3/13/2006)
Digital Audiobook (2/11/2019)
Paperback, Spanish (9/9/2003)
Description
NATIONAL BESTSELLER • Every year, Ceyala "Lala" Reyes' family—aunts, uncles, mothers, fathers, and Lala's six older brothers—packs up three cars and, in a wild ride, drive from Chicago to the Little Grandfather and Awful Grandmother's house in Mexico City for the summer. From the celebrated bestselling author of The House on Mango Street and winner of the 2019 PEN/Nabokov Award for Achievement in International Literature.

Struggling to find a voice above the boom of her brothers and to understand her place on this side of the border and that, Lala is a shrewd observer of family life. But when she starts telling the Awful Grandmother's life story, seeking clues to how she got to be so awful, grandmother accuses Lala of exaggerating. Soon, a multigenerational family narrative turns into a whirlwind exploration of storytelling, lies, and life. Like the cherished rebozo, or shawl, that has been passed down through generations of Reyes women, Caramelo is alive with the vibrations of history, family, and love. From the winner of the 2019 PEN/Nabokov Award for Achievement in International Literature.
Praise For Caramelo (Vintage Contemporaries)…
"All the energy of a riotous family fiesta. . . . Cisneros is undeniably at her peak." –The Washington Post

"A glorious book, Caramelo is crowded with the souvenirs and memories of the dramas of everyday life…like an oversized family album, intimate as well as universal."—The Philadelphia Inquirer

"A joyful, fizzy American novel. . . Soulful, sophisticated and skeptical, full of great one-liners, it is one of those novels that blithely leap across the border between literary and popular fiction." –New York Times Book Review

"Like Eduardo Galeano, John Dos Passos and John Steinbeck, Cisneros writes along the borders where the novel and social history intersect. In this lovingly told and poetic novel, she uses the storytelling art to give the voiceless ones a voice, and to find the border to the past, imbuing the struggles of her family and her countries with the richness of myth." –Los Angeles Times

"A wonderful book . . . evoking life's absurdity and possibility, tragedy and transcendence. . . . Combines the thematic richness of the most ambitious literature with the delight in character and plot of the most engrossing page-turner." –Chicago Sun-Times

"Cisneros is a writer for all people. This is a novel of families, home life and finding yourself in the world's greater landscape." –USA Today

"A sprawling, exuberant hopscotch through a century of family history. . . . Cisneros seduces us with her knitted tales, great and small, and her message is all the more powerful for its shimmering clarity." –Time Out New York

"Cisneros has a great eye for detail, a good ear for dialogue and a marvelous sense of humor. . . Caramelo is a tour de force–rich in its use of language, breathtaking in scope." –St. Louis Post-Dispatch

"Lovingly, passionately woven from dust and glory. . . A sweeping family history that somehow manages to interlace not just the Reyeses -- those conjurers, enticers and troublemakers -- but also all the rest of us, the good and bad together, the bitter and, of course, the sweet." –Miami Herald

"Sprawling, spirited. . . Vibrant and big-hearted." –Elle

"Cisneros's exuberant prose tickles the senses. . . A warm and generous story to wrap yourself up in." –St. Petersburg Times

"A sweet gift from the universe, a reminder of the ancient, deep, noble, and sad sources of the human heart. . . sometimes heartbreaking, sometimes transcendent." –San Antonio Express

"Cisneros is a virtuoso. . . [Caramelo] is rich in character and action, people and passions." –Houston Chronicle

"Remarkable. . . . Caramelo is a book to read slowly and savor and if you can find a listener, to read out loud." –Santa Fe New Mexican

"Cisneros is such an imaginative storyteller. . . Caramelo engages in a kind of playfulness that is utterly bewitching." –Entertainment Weekly

"Spellbinding. . . A richly satisfying novel." –People

"There should be a brand-new language to describe the ways in which [Cisneros] has imbued the ancient art of story-telling with her trademark organization, characterization, evocation of time and place, portrayal of a particular culture, and visionary wisdom. . .You must read this book for yourself, two or three times." –The Women's Review of Books

"Cisneros is a wonderful cultural translator, writing English dialogue so saturated with Mexican-Spanish idioms and constructions that you feel like you've been magically empowered to eavesdrop in another language." –The Oregonian

Vintage, 9780679742586, 464pp.
Publication Date: September 9, 2003
About the Author
Sandra Cisneros is a poet, short story writer, novelist and essayist whose work explores the lives of the working-class. Her numerous awards include NEA fellowships in both poetry and fiction, the Texas Medal of the Arts, a MacArthur Fellowship, several honorary doctorates and national and international book awards, including Chicago's Fifth Star Award, the PEN Center USA Literary Award, and the National Medal of the Arts awarded to her by President Obama in 2016. Most recently, she received the Ford Foundation's Art of Change Fellowship, was recognized among The Frederick Douglass 200, and was awarded the PEN/Nabokov Award for Achievement in International Literature.

Her classic, coming-of-age novel, The House on Mango Street, has sold over six million copies, has been translated into over twenty languages, and is required reading in elementary, high school, and universities across the nation.

In addition to her writing, Cisneros has fostered the careers of many aspiring and emerging writers through two non-profits she founded: the Macondo Foundation and the Alfredo Cisneros del Moral Foundation. She is also the organizer of Los MacArturos, Latino MacArthur fellows who are community activists. Her literary papers are preserved in Texas at the Wittliff Collections at Texas State University. 

Sandra Cisneros is a dual citizen of the United States and Mexico and earns her living by her pen. She currently lives in San Miguel de Allende.