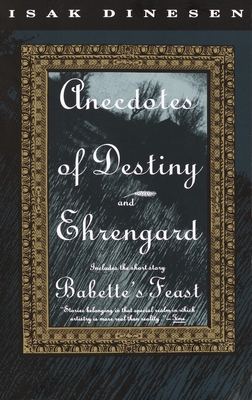 Anecdotes of Destiny and Ehrengard (Vintage International) (Paperback)
Vintage, 9780679743330, 288pp.
Publication Date: June 1, 1993
* Individual store prices may vary.
Description
In the classic "Babette's Feast," a mysterious Frenchwoman prepares sumptuous feast for a gathering of religious ascetics and, in doing so, introduces them to the true essence of grace. In "The Immortal Story," a miserly old tea-trader living in Canton wishes for power and finds redemption as he turns an oft-told sailors' tale into reality for a young man and woman. And in the magnificent novella Ehrengard, Dinesen tells of the powerful yet restrained rapport between a noble Wagnerian beauty and rakish artist.
 
Hauntingly evoked and sensuously realized, the five stories read and novella collected here and have the hold of "fairy stories read in childhood . . . of dreams . . . and of our life as dreams." (The New York Times)
About the Author
Isak Dinesen is the pseudonym of Karen Blixen, born in Denmark in 1885. After her marriage in 1914 to Baren Bror Blixen, she and her husband lived in British East Africa, where they owned a coffee plantation. She divorced from her husband in 1921 but continued to manage the plantation for another ten years, until the collapse of the coffee market forced her to sell the property and return to Denmark in 1931. There she began to write in English under the nom de plume Isak Dinesen. Her first book, and literary success, was Seven Gothic Tales. It was followed by Out of Africa, The Angelic Avengers (written under the pseudonym Pierre Andrézel), Winter's Tales, Last Tales, Anecdotes of Destiny, Shadows on the Grass, and Ehrengard. She died in 1962.
Praise For Anecdotes of Destiny and Ehrengard (Vintage International)…
"Dinesen's stories are the work of a writer with a powerful imagination and a shrewd intelligence." —The New York Times Book Review

In the classic "Babette's Feast," a mysterious Frenchwoman prepares a sumptuous feast for a gathering of religious ascetics and, in doing so, introduces them to the true essence of grace. In "The Immortal Story," a miserly old tea-trader living in Canton wishes for power and finds redemption as he turns an oft-told sailors' tale into reality for a young man and woman. And in the magnificent novella Ehrengard, Dinesen tells of the powerful yet restrained rapport between a noble Wagnerian beauty and a rakish artist.

Hauntingly evoked and sensuously realized, the five stories and novella collected here have the hold of "fairy stories read in childhood . . . of dreams . . . and of our life as dreams" (The New York Times).

"[Dinesen's] imagination could visit, it seemed, any corner of European history and find there a tale tinged with the luster and vivid shadowing of medieval allegory." —John Updike
or
Not Currently Available for Direct Purchase