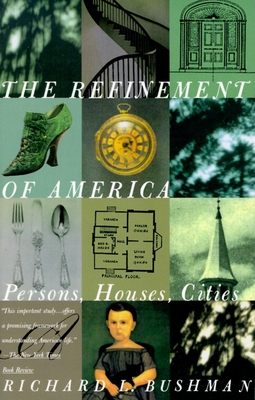 The Refinement of America: Persons, Houses, Cities (Paperback)
Persons, Houses, Cities
Vintage, 9780679744146, 528pp.
Publication Date: August 31, 1993
Description
This lively and authoritative volume makes clear that the quest for taste and manners in America has been essential to the serious pursuit of a democratic culture. Spanning the material world from mansions and silverware to etiquette books, city planning, and sentimental novels, Richard L. Bushman shows how a set of values originating in aristocratic court culture gradually permeated almost every stratum of American society and served to prevent the hardening of class consciousness. A work of immense and richly nuanced learning, The Refinement of America newly illuminates every facet of both our artifacts and our values.
About the Author
Richard Lyman Bushman, Gouverneur Morris Professor of History, Emeritus, at Columbia University, grew up in Portland, Oregon, and earned his undergraduate and graduate degrees from Harvard University. He has also taught at Brigham Young University, Boston University, and the University of Delaware. His From Puritan to Yankee: Character and Social Order in Connecticut, 1690-1765 won the Bancroft Prize in 1967. His other books include Joseph Smith and the Beginnings of Mormonism (1984), winner of the Evans Biography Award; King and People in Provincial Massachusetts (1985); and The Refinement of America: Persons, Houses, Cities (1992). A practicing Mormon, he lives in New York City with his wife, Claudia.
Praise For The Refinement of America: Persons, Houses, Cities…
"This important study . . . offers a promising framework for understanding American life."— The New York Times Book Review"From an astonishing array of sources Bushman has pieced together an extraordinarily rich and readable account of the spread of gentility over a century and a half. . . . This is a remarkable book about a subject that is presently emerging as one of the most significant in the history not only of early America but of all early modern Western societies."— Gordon S. Wood, author of The Radicalism of the American Revolution"The scope of this book is enormous. . . . Bushman is a skilled researcher, and he has combed the archives of historical museums for his evidence, which he arranges neatly and intelligently."—Los Angeles Times Book Review"One of the most skillful and sensitive accounts in a fresh field . . . The Refinement of America will fundamentally alter the way we think about the genesis of American civilization."— Michael Kammen, Cornell University
Advertisement