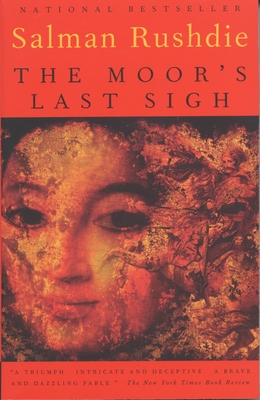 The Moor's Last Sigh (Vintage International)
Paperback

* Individual store prices may vary.
Other Editions of This Title:
Hardcover (1/1/1996)
Paperback (11/5/1996)
Paperback (1/3/1998)
Description
Time Magazine's Best Book of the Year

Booker Prize-winning author Salman Rushdie combines a ferociously witty family saga with a surreally imagined and sometimes blasphemous chronicle of modern India and flavors the mixture with peppery soliloquies on art, ethnicity, religious fanaticism, and the terrifying power of love. Moraes "Moor" Zogoiby, the last surviving scion of a dynasty of Cochinese spice merchants and crime lords, is also a compulsive storyteller and an exile. As he travels a route that takes him from India to Spain, he leaves behind a tale of mad passions and volcanic family hatreds, of titanic matriarchs and their mesmerized offspring, of premature deaths and curses that strike beyond the grave.
Praise For The Moor's Last Sigh (Vintage International)…
TIME Magazine's Best Book of the Year

"Fierce, phantasmagorical…a huge, sprawling, exuberant novel." --The New York Times

"Salman Rushdie's greatest novel…held me is its thrall and provided the richest fictional experience of 1995." --The Sunday Times

"A rich, wonderfully readable novel." --Toronto Star

"The most complete and gratifying work to emerge from Salman Rushdie's imagination…. The Moor's Last Sigh is an exotic story, in its setting, in its characters, in its punning extravagance, and in its deeply human core. It is an extraordinary family saga…full of wonderful characters, and the insight born of genuine reflection…A remarkable spell of creativity." --The Edmonton Journal

"Rushdie, the author of nine previous books—including The Satanic Verses, which prompted Ayatollah Khomeini to issue his death sentence in 1989—alludes often to his own exile, the story of modern India and the dangers of art. At first the hyperbole, didactic asides, verbal puns, lyrical and lewd jokes, and slapstick routines seem a bit much, but if you stick with it, a cumulative magic takes hold. Rushdie's satiric, hysterically funny, political family tragedy is a masterpiece." --Salon

Vintage, 9780679744665, 448pp.
Publication Date: January 14, 1997
About the Author
Salman Rushdie is the author of nine books, including Shame, Midnight's Children, East, West, and The Satanic Verses. In 1993 Midnight's Children was adjudged The Booker of Bookers.