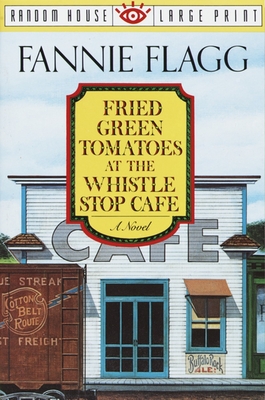 Fried Green Tomatoes at the Whistle Stop Cafe (Paperback)
Random House Large Print Publishing, 9780679744955, 528pp.
Publication Date: March 9, 1993
* Individual store prices may vary.
or
Not Currently Available for Direct Purchase
Description
The remarkable novel of two Southern friendships--the basis of the hit film--available for the first time in large print.
About the Author
Fannie Flagg began writing and producing television specials at agenineteen and went on to distinguish herself as an actress and a writer intelevision, films, and the theater. Her first novel, Daisy Fay and TheMiracle Man, spent ten weeks on the New York Times paperbackbestseller list, and her second novel, Fried Green Tomatoes at theWhistle Stop Cafe, was on the same list for thirty-six weeks. It wasproduced by Universal Pictures as the feature film Fried GreenTomatoes. Flagg's script was nominated for both the Writers Guild ofAmerica and an Academy Award, and it won the highly regardedScripters Award. Flagg narrated both novels on audiocassette andreceived a Grammy Award nomination for Best Spoken Word. Her latest novel is titled Welcome to the World, Baby Girl! She livesin California and Alabama.
Praise For Fried Green Tomatoes at the Whistle Stop Cafe…
"The people in Miss Flagg's book are as real as the people in books can
be. If you put an ear to the pages, you can almost hear the characters
speak. The writer's imaginative skill transforms simple, everyday events
into complex happenings that take on universal meanings."

--Chattanooga Times

"This whole literary enterprise shines with honesty, gallantry, and love
of perfect details that might otherwise be forgotten."

--Los Angeles Times

"A sparkling gem."

--Birmingham News

"Watch out for Fannie Flagg. When I walked into the Whistle Stop Cafe she
fractured my funny bone, drained my tear ducts, and stole my heart."

--Florence King, Author of Confessions of a Failed Southern Lady


"Admirers of the wise child in Flagg's first novel, Coming Attractions,
will find her grown-up successor, Idgie, equally appealing. The book's
best character, perhaps, is the town of Whistle Stop itself--too bad
trains don't stop there anymore."

--Publisher's Weekly
Advertisement