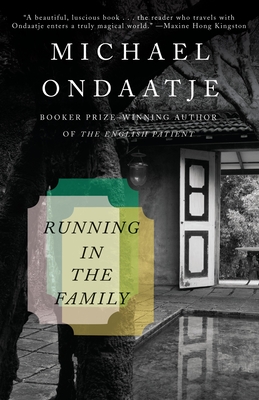 Running in the Family (Vintage International) (Paperback)
Vintage, 9780679746690, 208pp.
Publication Date: November 30, 1993
Other Editions of This Title:
Prebound (11/30/1993)
MP3 CD (3/7/2017)
MP3 CD (2/16/2018)
Paperback (7/1/1999)
* Individual store prices may vary.
Description
In the late 1970s Ondaatje returned to his native island of Sri Lanka. As he records his journey through the drug-like heat and intoxicating fragrances of that "pendant off the ear of India, " Ondaatje simultaneously retraces the baroque mythology of his Dutch-Ceylonese family. An inspired travel narrative and family memoir by an exceptional writer.
About the Author
Michael Ondaatje is the author of three previous novels, a memoir and eleven books of poetry. His novel The English Patient won the Booker Prize. Born in Sri Lanka, he moved to Canada in 1962 and now lives in Toronto.
Praise For Running in the Family (Vintage International)…
"Brightly coloured, sweet and painful, bloody-minded and otherworldly, [this book] achieves the status of legend."
–Margaret Atwood

"Eloquent, oblique, witty, full of light and feeling.…Ondaatje's knowledge of the fragility and luck of life is very clear. So, too, is the grace and originality of his prose."
–The New Yorker

"Ondaatje has produced a remarkable book.…Shimmering through the haze of heat and memory is an impressionistic, sometimes surreal portrait of an exotic time and place now gone, a colonial paradise that had its own rhythms and imperatives."
–Globe and Mail

"A beautiful, luscious book. Michael Ondaatje has depicted his extraordinary family, who delighted in masks and costumes and love affairs that 'rainbowed over marriages' in the kind of language that makes glory of their lives. He has gone on a poet's journey to Sri Lanka (Ceylon), and the reader who travels with him enters a truly magical world."
–Maxine Hong Kingston

"It sparkles with the intensity and vividness of its multifaceted tales of romance and intrigue."
–Fort Worth Star-Telegram

"A brilliant, charming, poetic, hyperbolic holiday of a book.…Ondaatje walks the line between fact and fiction with a delicately rendered delight."
–Vancouver Province

"…the brilliant and moving book he has written is original in every way that matters."
–W. S. Merwin

"A beautiful, luscious book of discovery and remembrance."
–Hamilton Spectator

"With a prose style equal to the voluptuousness of [Ondaatje's] subject and a sense of humor never too far away, Running in the Family is sheer reading pleasure."
–Washington Post

"It dazzles with its range of imagination, richness of language and the consistently involving changes of mood and tempo."
–Toronto Star

"This is an intriguing, funny, dream-like book, impossible to put down."
–Winnipeg Free Press

"…brief, vivid scenes, moments revived out of remote memories, pictures of the intensities lived by his passionate parents… amid the lush flora, the predatory fauna, and the old-fashioned life of the British colonies. This is great story-telling.…"
–Leon Edel