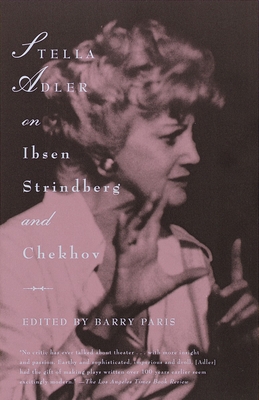 Stella Adler on Ibsen, Strindberg, and Chekhov (Paperback)
Vintage, 9780679746980, 352pp.
Publication Date: September 12, 2000
Description
An original member of the famed Group Theater, Stella Adler was one of the most influential artists to come out of the American theater. As a Stanislavsky disciple and founder of her own highly esteemed acting conservatory, the extravagant actress was also an eminent acting teacher, training her students--among them Marlon Brando, Al Pacino, and Robert DeNiro--in the art of script interpretation.
The classic lectures collected here, delivered over a period of forty years, bring to life the plays of the three fathers of modern drama: Henrik Ibsen, August Strindberg, and Anton Chekhov. With passionate conviction and shrewd insight, Adler explains how their plays forever changed the world of dramaturgy while offering enduring insights on society, class, culture, and the role of the actor. She explores the struggles of Ibsen's characters to free themselves from societal convention, the mortal conflicts that trap Strindberg's men and women, and the pain of loss and transition lyrically evoked by Chekhov. A majestic volume, Stella Adler on Ibsen, Strindberg, and Chekhov allows us to experience the work of these masters "as if to see, hear and feel their genius for the first time." (William H. Gass)
About the Author
Stella Adler died in 1992 at the age of ninety-one. Barry Paris lives in Pittsburgh, Pennsylvania.
Praise For Stella Adler on Ibsen, Strindberg, and Chekhov…
"No critic has ever talked about theater . . . with more insight and passion. Earthy and sophisticated, imperious and droll, [Adler] had the gift of making plays written over 100 years earlier seem excitingly modern." --The Los Angeles Times Book Review

"Plunges you into the world of theater . . . [and] reveals Stella Adler as a literary and social analyst, Stella Adler as an acting teacher, and Stella Adler as a great personality." --The New Republic

"These inspired lectures are evidence that Stella Adler is hands down the greatest acting teacher America has produced. . . . Nobody with a serious interest in the theater can afford to be without this book." --John Guare

"One regrets never having seen [Adler] perform, but reading her on these writers, especially Chekhov, is the next best thing." --The New York Times
Advertisement