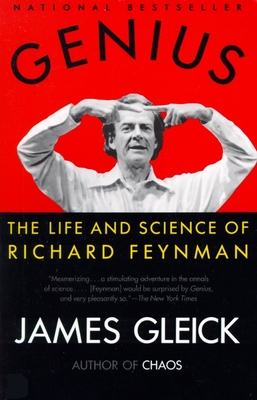 Genius: The Life and Science of Richard Feynman (Paperback)
The Life and Science of Richard Feynman
Vintage, 9780679747048, 560pp.
Publication Date: November 2, 1993
Description
To his colleagues, Richard Feynman was not so much a genius as he was a full-blown magician: someone who does things that nobody else could do and that seem completely unexpected. The path he cleared for twentieth-century physics led from the making of the atomic bomb to a Nobel Prize-winning theory of quantam electrodynamics to his devastatingexpose of the Challenger space shuttle disaster. At the same time, the ebullient Feynman established a reputation as an eccentric showman, a master safe cracker and bongo player, and a wizard of seduction.
Now James Gleick, author of the bestselling Chaos, unravels teh dense skein of Feynman's thought as well as the paradoxes of his character in a biography which was nominated for a National Book Award of outstanding lucidity and compassion.
About the Author
JAMES GLEICKis our leading chronicler of science and technology, the best-selling author ofChaos: Making a New Science, Isaac Newton, andThe Information: A History, a Theory, a Flood. His books have been translated into thirty languages. www.around.com"
Advertisement