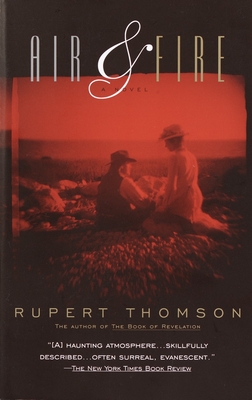 Air & Fire (Paperback)
Vintage, 9780679747307, 320pp.
Publication Date: May 30, 1995
Description
In the 1890s, Lower California is a land adrift, peopled by Indians and half-breeds, and now by the French as well. The Indians are indifferent to Western notions of time and industry. The French, on the other hand, are sufficiently meticulous to import 2,348 pieces of cast iron to the desolate mining town of Santa Sofia, there to be assembled into a church under the supervision of a disciple of the renowned Gustave Eiffel.
This wildly impractical venture is the starting premise for this new novel by the author of The Five Gates of Hell, a writer the Washington Post has called a virtuoso of the hallucinatory. As Theophile Valence attempts to re-create Paris in an outpost of hell and his wife, Suzanne, arouses the doomed passions of an American prospector and a Mexican army officer Air and Fire fuses adventure and romance into a magnificent tale of conflicting passions and cultures.
Absorbing . . . More than anything else, it is the prose oin which Thomson evokes his character s] mental life that, with the concentration of a magnifying glass, kindles this novel's fire. The New Yorker
About the Author
Rupert Thomson was born in Eastbourne, East Sussex, England, and studied Medieval History and Political Thought at the University of Cambridge. His highly acclaimed works include novels Secrecy, The Five Gates of Hell, Death of a Murderer, The Book of Revelation, Soft!, and The Insult, and a memoir, This Party's Got to Stop. In 2015, Thomson was named a fellow of the Royal Society of Literature. He lives in London.
Praise For Air & Fire…
"Wonderful...utterly engaging, full of adventure and excess, and 130 degrees in the shade."

-- Washington Post Book World

In the 1890s, "Lower California" is a land adrift, peopled by Indians and half-breeds, and now by the French as well. The Indians are indifferent to Western notions of time and industry The French, on the other hand, are sufficiently meticulous to import 2,348 pieces of cast iron to the desolate mining town of Santa Sofia, there to be assembled into a church under the supervision of a disciple of the renowned Gustave Eiffel.

This wildly impractical venture is the starting premise for this new novel by the author of The Five Gates of Hell, a writer the Washington Post has called "a virtuoso of the hallucinatory." As Theophile Valence attempts to re-create Paris in an outpost of hell -- and his wife, Suzanne, arouses the doomed passions of an American prospector anti a Mexican army officer -- Air & Fire fuses adventure and romance into a magnificent tale of conflicting passions and cultures.

"Absorbing.... More than anything else, it is the prose in which Thomson evokes [his character's] mental life that, with the concentration of a magnifying glass, kindles this novel's fire." -- The New Yorker

"In the tradition of Heart of Darkness, this is a very well-researched novel, with lovely descriptions of flora and fauna, of lava fields and basalt plains, of bats winging about at dusk. Thomson vividly evokes the atmosphere of colonial society." -- New York Newsday

"The brilliance of Air & Fire comes from the intelligence and insight with which Thomson constructs his story." -- Christian Science Monitor
Advertisement