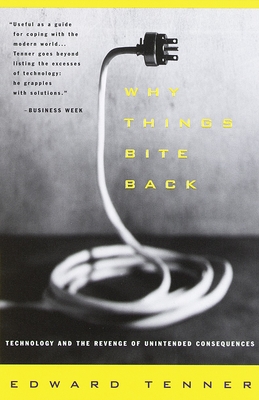 Why Things Bite Back (Paperback)
Technology and the Revenge of Unintended Consequences
Vintage, 9780679747567, 448pp.
Publication Date: September 2, 1997
Other Editions of This Title:
Hardcover (1/1/1996)
* Individual store prices may vary.
Description
In this perceptive and provocative look at everything from computer software that requires faster processors and more support staff to antibiotics that breed resistant strains of bacteria, Edward Tenner offers a virtual encyclopedia of what he calls "revenge effects"--the unintended consequences of the mechanical, chemical, biological, and medical forms of ingenuity that have been hallmarks of the progressive, improvement-obsessed modern age. Tenner shows why our confidence in technological solutions may be misplaced, and explores ways in which we can better survive in a world where despite technology's advances--and often because of them--"reality is always gaining on us."  For anyone hoping to understand the ways in which society and technology interact, Why Things Bite Back is indispensable reading.  "A bracing critique of technological determinism in both its utopian and dystopian forms...No one who wants to think clearly about our high-tech future can afford to ignore this book."--Jackson Lears, Wilson Quarterly
About the Author
Edward Tenner, former executive editor for physical science and history at Princeton University Press, holds a visiting research appointment in the Department of Geological and Geophysical Sciences at Princeton University. He received the A.B. from Princeton and the Ph.D. in history from the University of Chicago and has held visiting research positions at Rutgers University and the Institute for Advanced Study. In 1991-92 he was a John Simon Guggenheim Memorial Fellow and in 1995-96 is a Fellow of the Woodrow Wilson International Center for Scholars.