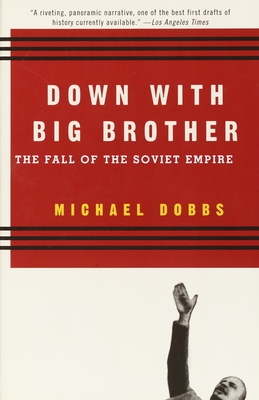 Down with Big Brother: The Fall of the Soviet Empire (Paperback)
The Fall of the Soviet Empire
Vintage, 9780679751519, 528pp.
Publication Date: January 12, 1998
* Individual store prices may vary.
or
Not Currently Available for Direct Purchase
Description
"One of the great stories of our time . . . a wonderful anecdotal history of a great drama."
--San Francisco Chronicle Book Review As Washington Post correspondent in Moscow, Warsaw, and Yugoslavia in the final decade of the Soviet empire, Michael Dobbs had a ringside seat to the extraordinary events that led to the unraveling of the Bolshevik Revolution. From Tito's funeral to the birth of Solidarity in the Gdansk shipyard, from the tragedy of Tiananmen Square to Boris Yeltsin standing on a tank in the center of Moscow, Dobbs saw it all. The fall of communism was one of the great human dramas of our century, as great a drama as the original Bolshevik revolution. Dobbs met almost all of the principal actors, including Mikhail Gorbachev, Lech Walesa, Vaclav Havel, and Andrei Sakharov. With a sweeping command of the subject and the passion and verve of an eyewitness, he paints an unforgettable portrait of the decade in which the familiar and seemingly petrified Cold War world--the world of Checkpoint Charlie and Dr. Strangelove--vanished forever. "Down with Big Brother ranks very high among the plethora of books about the fall of the Soviet Union and the death throes of Communism. It is possibly the most vividly written of the lot."
-- Adam B. Ulam, Washington Post Book World.
About the Author
Now a US citizen, Michael Dobbs was born and educated in Britain, with fellowships at Princeton and Harvard. He spent much of his career as a reporter for The Washington Post, where he covered the collapse of communism. His previous books include One Minute to Midnight, Six Months in 1945: FDR, Stalin, Churchill, and Truman--from World War to Cold War, and Down with Big Brother: The Fall of the Soviet Empire, a finalist for the 1997 PEN award for nonfiction.
Advertisement