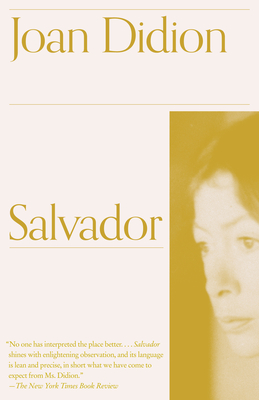 Salvador (Paperback)
Vintage, 9780679751830, 112pp.
Publication Date: April 26, 1994
Description
"Terror is the given of the place." The place is El Salvador in 1982, at the ghastly height of its civil war. The writer is Joan Didion, who delivers an anatomy of that country's particular brand of terror-its mechanisms, rationales, and intimate relation to United States foreign policy.As ash travels from battlefields to body dumps, interviews a puppet president, and considers the distinctly Salvadoran grammar of the verb "to disappear," Didion gives us a book that is germane to any country in which bloodshed has become a standard tool of politics.
About the Author
Joan Didion was born in California and lives in New York City. She is the author of five novels and seven previous books of nonfiction.
Praise For Salvador…
"No one has interpreted the place better.... Salvador shines with enlightening observation, and its language is lean and precise, in short what we have come to expect from Ms. Didion." —The New York Times Book Review"[Didion has] the instincts of an exceptional reporter and the focus of a historian [as well as] a novelist's appreciation for the surreal. . . . Her clarity of style illuminates the vast darkness that engulfs El Salvador." —Los Angeles Times Book Review"Everything [Didion] writes grows out of close observation of the social landscape of El Salvador. And it is quite impossible to deny the artistic brilliance of her reportage. She brings the country to life so that it ends up invading our flesh."—The New York Times
Advertisement