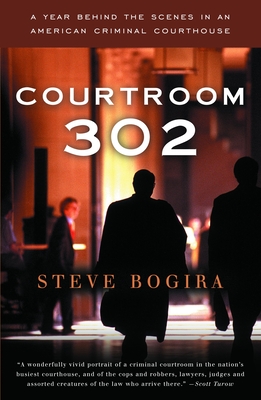 Courtroom 302: A Year Behind the Scenes in an American Criminal Courthouse (Paperback)
A Year Behind the Scenes in an American Criminal Courthouse
Vintage Books USA, 9780679752066, 401pp.
Publication Date: February 14, 2006
Description
Courtroom 302 is the fascinating story of one year in Chicago's Cook County Criminal Courthouse, the busiest felony courthouse in the country. Here we see the system through the eyes of the men and women who experience it, not only in the courtroom but in the lockup, the jury room, the judge's chambers, the spectators' gallery. From the daily grind of the court to the highest-profile case of the year, Steve Bogira's masterful investigation raises fundamental issues of race, civil rights, and justice in America.
About the Author
Steve Bogira graduated from Northwestern University and has been a prizewinning writer for the Chicago Reader since 1981. He is a former Alicia Patterson Fellow. He lives with his wife in Evanston, Illinois.
Praise For Courtroom 302: A Year Behind the Scenes in an American Criminal Courthouse…
"In this important and illuminating work, Steve Bogira shines a blazing new light on America's criminal justice system. This book is filled with one revelatory insight after another about how that system really works. And in his stories about the people–from the judge and the lawyers to the defendants–whose lives come together in a single American courtroom, in a single year, Mr. Bogira shows that he is a masterful reporter not only of our country's criminal justice system but also of human beings caught up in its gears." —Robert A. Caro

"Courtroom 302 is a wonderfully vivid portrait of a criminal courtroom in the nation's busiest courthouse, and of the cops and robbers, lawyers, judges, and assorted creatures of the law who arrive there. It makes informative and often moving reading." —Scott Turow

"Excellent . . . By focusing on something small—the cases coming before one judge, in a single courtroom—Bogira gets a handle on something large and hard to make sense of: the American way of criminal justice." —Ted Conover, The New York Times Book Review

"Brilliant . . . A genuine eye-opener. Bogira supplements his acute observations with meticulous research . . . He has produced a compelling narrative that is often more entertaining than most of the cop shows which are so popular on American television." —The Economist

"Gripping . . . Bogira captures the unspoken realities of the criminal justice system . . . Triumphant in its detail." —David Feige, The Washington Post

"Stunning . . . What ails our system of criminal justice isn't news . . . What is news is the why of it all. And that's the book's central revelation, which Bogira articulates in prose that's first rate . . . The heart of the book is observation and world-class reportage . . .Statistics are deconstructed back into human beings. We get the smells, sights, and sounds of the big city criminal courts in precise, unforgettable detail . . . Anyone considering working as a prosecutor or a defense attorney must read this book. It's the equivalent of a year in Criminal Court. Those working in the system will find that the book confirms much that they know and offers a lot they probably don't. For the general reader, Bogira shows how the criminal justice system has been smoothly incorporated into the military-industrial complex of a free market on tilt. Regardless of the reason for reading Courtroom 302, one's perceptions of our criminal justice system, and the larger system that created and continues to shape it, will be permanently altered." ---Theodore L. Blumberg, New York Law Journal

"A book you must read . . . It captures the reality of criminal justice better than anything I've read." --Charles Peters, Washington Monthly

"Powerful and moving . . . Bogira is more than a gifted writer: He's also a disciplined and committed one . . . Bogira is an inspiring reminder of what investigative reporting can and should do to keep our national institutions cleaner and better than they are." —Jonathan Shapiro, Los Angeles Times

"Steve Bogira is a brilliant reporter and observer, who also happens to be one masterful storyteller. Courtroom 302 is as honest and gritty as they come, and filled with surprises. It's one of the most important books on America's criminal justice system to come along in years." —Alex Kotlowitz, author of There Are No Children Here

"Riveting . . . An immensely important book that exposes how America's criminal justice system really works . . . Its steady stream of powerful insights inevitably apply to every big city court system in the nation." —Tom McNamee, Chicago Sun-Times

"The view of America that this book opens up is disturbing, and also fresh and fascinating. But Courtroom 302 isn't merely sociological. It's full of human drama, unearthed from the dreary and quotidian by an author with a remarkably fair and open mind." —Tracy Kidder, author of The Soul of a New Machine and Mountains Beyond Mountains

"Fascinating." —Jennifer Reese, Entertainment Weekly

"Engrossing . . . Compelling and carefully observed." —Keelin McDonell, The New Republic Online

"A rare, richly detailed look at criminal justice . . . Well-written, meticulously researched . . . A vivid tapestry of the day-in and day-out workings of criminal justice, ranging from the mundane to the bizarre and from the humorous to the gut-wrenchingly sad." —Maurice Possley, Chicago Tribune

"So insider-ish, so candid, that it will shock, awe, and generally stick in the mind for a long time . . . So much in Courtroom 302 is revelatory that the revelations cannot even be summarized in a normal-length newspaper review . . . Important, compelling." —Steve Weinberg, Legal Times

"An eye-opener. Bogira is a journalist who knows his trade as well as anyone I've encountered in recent years. A remarkable book." —Studs Terkel

"A gripping, insightful book . . . Might be required reading for anyone interested in the realities of the American justice system." —Peter Blauner, Newsday

"Bogira writes with clarity, passion, and often lyrical beauty . . . With a good eye for detail and a dramatist's attention to what motivates his characters, he reveals the common humanity of the rumpled and rank prisoners . . . Those who consider it long overdue to shine a light on this branch of government might start by reading his book." —Anne Grant, The Providence Journal

"Too rarely a book appears that seems immediately essential, critical to an understanding of the culture and time in which we live. Steve Bogira's Courtroom 302 is such a book. Animated by fact and the moral vitality that has distinguished urban novelists from Dickens through Algren, Courtroom 302 is a compelling account of the brutal reality that passes for justice in America." —Stuart Dybek

"Courtroom 302 is insightful and a pleasure to read . . . Dead-on accurate." —Jim Day, Chicago Lawyer

"Steve Bogira reveals how our court system really works—and it is nothing like you see on television. He takes readers past the metal detectors, into a felony courtroom—and inside the minds of judges, lawyers, and defendants alike. Along the way, he exposes the bureaucracy that feeds America's prisons, delivering fresh insights into how America ended up with the world's highest rate of imprisonment. Courtroom 302 is a triumph of narrative journalism and a must-read for anyone concerned about the state of justice in America." —Jennifer Gonnerman, author of Life on the Outside: The Prison Odyssey of Elaine Bartlett

"Courtroom 302 is a dispassionate work of journalistic precision, a smart, subtle broadside against a criminal justice system that feeds upon the poor and dispossessed. The waste of an unenforceable drug prohibition, the number-crunching senselessness of assembly-line plea bargaining, the willful blindness by judges, lawyers and sheriff's deputies to the very human element itself—all of it is rendered through the careful and honest examination of one Chicago courtroom. Steve Bogira has written a book that detail by detail, reveals the chasm between law and justice and, in the end, shames us all." —David Simon, author of Homicide: A Year on the Killing Streets and The Corner: A Year in the Life of an Inner-City Neighborhood

"An eye-opening look at criminal justice in America . . . Bogira offers a keen perspective on a single courtroom and the broader social implications that should concern us all. Readers interested in social issues and the criminal justice system will be engrossed." —Vernon Ford, Booklist

"For fans of Law & Order, CSI, and other crime dramas dominating prime time today, Steve Bogira offers the real thing . . . Meticulously reported." —Ann LoLordo, Baltimore Sun

"A tour-de-force . . . The author has done his homework . . . An outstanding accomplishment; for all collections." —Harry Charles, Esq., Library Journal

"An outstanding journey inside the American criminal justice system [that] punctures the popular myths . . . The author's ability to gain the trust of so many different participants in the grim drama [is] remarkable." —Publishers Weekly (starred review)

"An addictive portrait of an American courtroom . . . Eye-opening and bold from the start." —Kirkus Reviews (starred review)
Advertisement