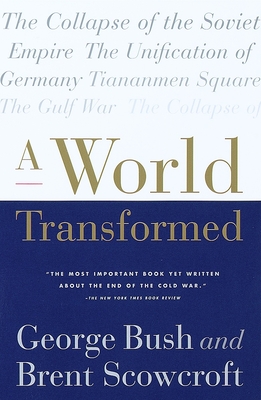 A World Transformed (Paperback)
Vintage, 9780679752592, 624pp.
Publication Date: September 7, 1999
Description
"The most important book yet written about the end of the Cold War."
-The New York Tmes Book Review
"Among the finest expositions of modern American foreign policy. . . . An excellent book."
-Eugene V. Rostow, The Wall Street Journal
It was a pivotal administration in the history of American foreign policy--for during George Bush's presidency a series of international events took place that had a profound impact on the course of America and on the future of world diplomacy.
In A World Transformed, Mr. Bush and his national security advisor, Brent Scowcroft, provide a fascinating account of a president and an administration faced with unprecedented obstacles and unrivaled opportunities as they forged a foreign policy at the end of the Cold War. Solidarity comes to power in Poland. East and West Germans dance on the wall that separated them for half a century. And on Christmas Day, 1991, the hammer-and-sickle flag descends from the Kremlin for the last time.
It is also a candid analysis of a new chapter in foreign affairs, when the United States led an international alliance to confront the threat presented by Saddam Hussein and presented a dynamic response to the Tiananmen crisis. Balanced and intelligent, A World Transformed offers a landmark treatise on American foreign policy and international diplomacy from two of its principal architects.
"Reveals not only a wealth of detail about the main lines of foreign policy at the highest level during a most portentous period of our history, but also of the truly admirable characters of the men who made it."
-The Philadelphia Inquirer
"In a strong new book, the ex-president recalls
dangerous days. . . . It should leave little doubt how lucky we were that we had such a seasoned hand on the tiller at a time when foreign policy really counted."
-Michael R. Beschloss, Newsweek
About the Author
George Bush was President of the United States from 1989 to 1993. He lives in Houston, Texas, and Kennebunkport, Maine. Brent Scowcroft was National Security Advisor under Presidents Ford and Bush. He is president of The Scowcroft Group, Inc., an international consulting firm, and president of the Forum for International Policy, a nonprofit foreign policy foundation, both based in Washington, D.C. He lives in Maryland. From the Hardcover edition.
Praise For A World Transformed…
"In a strong new book, the ex-president recalls dangerous days...It should leave little doubt how lucky we were that we had such a seasoned hand on the tiller at a time when foreign policy really counted."
--Michael R. Beschloss, Newsweek

"Among the finest expositions of modern American foreign policy since the time of Harry
Truman...An excellent book...unique in form...[dealing with] potentially explosive crises. Any one of them, if badly managed, could have precipitated a third world war in a nuclear setting."
--Eugene V. Rostow, Wall Street Journal

"It reveals a wealth of detail about the main lines of U.S. foreign policy at the highest level during a most portentous period of our history...There is much high drama here [and] plenty even for experts to learn."
--Adam Garfinkle, Philadelphia Inquirer

"A memorable memoir...A compelling look at some very important historical developments...Remarkably candid as well as occasionally self-critical...Supplemented with a series of revealing and heretofore unpublished excerpts from Bush's White House diaries."
--Richard S. Dunham, Business Week

"The most important book yet written about the end of the Cold War...Remarkably frank, intelligent and also readable, indeed at times gripping."
--Fareed Zakaria, New York Times Book Review
Advertisement