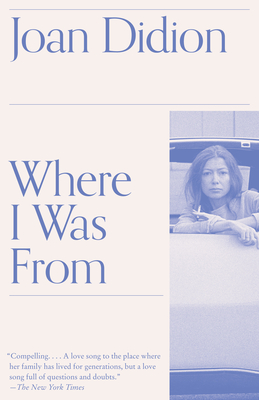 Where I Was From (Vintage International) (Paperback)
Vintage, 9780679752868, 240pp.
Publication Date: September 14, 2004
Other Editions of This Title:
MP3 CD (7/12/2016)
Hardcover (9/23/2003)
Compact Disc (1/25/2019)
* Individual store prices may vary.
Description
In her moving and insightful new book, Joan Didion reassesses parts of her life, her work, her history and ours. A native Californian, Didion applies her scalpel-like intelligence to the state's ethic of ruthless self-sufficiency in order to examine that ethic's often tenuous relationship to reality.

Combining history and reportage, memoir and literary criticism, Where I Was From explores California's romances with land and water; its unacknowledged debts to railroads, aerospace, and big government; the disjunction between its code of individualism and its fetish for prisons. Whether she is writing about her pioneer ancestors or privileged sexual predators, robber barons or writers (not excluding herself), Didion is an unparalleled observer, and her book is at once intellectually provocative and deeply personal.
About the Author
Joan Didion was born in California and lives in New York City. She is the author of five novels and seven previous books of nonfiction.
Praise For Where I Was From (Vintage International)…
"Compelling. . . . A love song to the place where her family has lived for generations, but a love song full of questions and doubts." –Michiko Kakutani, The New York Times"An arresting amalgam of memoir and historical timeline. . . . Exquisitely crafted, as subtle as the slow waking from a pleasant dream." –The Baltimore Sun"One beautiful sentence follows another. . . . This is a book about history, about what we learn from genealogy and history books, novels and old newspapers, and how we square all that with what we see around us. . . . Didion has remained a clearheaded and original writer all her long life." –Malcolm Jones, Newsweek"Succinct and quite beautiful. . . . Its rewards are many. If anyone needs further confirmation that she is one of the finest essayists currently at work, this book will nail it." –The Seattle Times/Post Intelligencer"One of the most recognizable–and brilliant–literary styles to emerge in America during the past four decades. . . . [Didion is] a great American writer." –The New York Times Book Review "Didion has written a brave little book . . . a fine book that must be read with as much care it was written. . . . [Didion is] an implacably honest writer." –Jonathan Yardley, Washington Post"Valediction and elegy alike, Where I Was From is a storm-tossed book. Its history is dense . . . its prose sharp, direct and chiseled." –The Los Angeles Times Book Review"Eloquent, spare, and rendered without sentiment." –Boston Globe"[Didion is] a latter-day Walt Whitman, singing of America by singing of herself." –Slate.com "Joan Didion is a brilliant explicator of the American political and cultural consciousness." –Rocky Mountain News"Many of us have tried, and failed, to master [Didion's] gift for the single ordinary deflating word, the word that spins an otherwise flat sentence through five degrees of irony. But her sentences could only be hers." –Michael Gorra, Chicago Tribune"[A] fascinating, informative, obscure–and yes, moving–little book." –San Jose Mercury News"A bracing mix of personal and public history." –Benjamin Kunkel, Newsday"Odd, elliptical and ultimately revealing. . . . Didion discovers the exact locus where geography and personal journey intersect, and has produced a work as compelling and enigmatic as its subjects." –Time Out New York"Where I Was From is a beautifully written and intensely personal tome. . . . One of the country's most intelligent writers . . . Ms. Didion's prose is like a razor cutting straight to the bone." –New York Sun"[Didion's] appraisal is cool, her eye is sharp, and her turn of phrase is wicked." –Time"How odd that bad news can be so much fun to read. Her essays are as sinewy as her novels, written in the same ice-pick/laser-beam prose." –Harper's