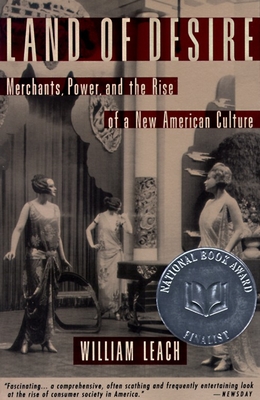 Land of Desire (Paperback)
Merchants, Power, and the Rise of a New American Culture
Vintage, 9780679754114, 560pp.
Publication Date: September 6, 1994
* Individual store prices may vary.
Description
This monumental work of cultural history was nominated for a National Book Award. It chronicles America's transformation, beginning in 1880, into a nation of consumers, devoted to a cult of comfort, bodily well-being, and endless acquisition. 24 pages of photos.
About the Author
William R. Leach is a professor of history at Columbia University. His books include Butterfly People, Country of Exiles: The Destruction of Place in American Life, and Land of Desire: Merchants, Power, and the Rise of a New American Culture, which was a National Book Award finalist.
Praise For Land of Desire: Merchants, Power, and the Rise of a New American Culture…
"An extraordinary work of history, imaginatively conceived, thoroughly researched and absorbingly written. William Leach allows us to see the production of mass consumer culture and to see it whole, in its richness and its poverty. It is a fascinating and troubling tale, and Leach tells it with exceptional skill and sensitivity." --Jean-Christophe Agnew, Yale University

"A major reinterpretation of our cultural experience, Land of Desire is a brilliant, evocative, and highly readable study by an original, honest and courageous historian who has seen to the heart of American commercial culture. In a society in debt to the licentious 1980s and unfortunately still attempting to achieve social justice though endless growth, this is required reading."--Mary O. Furner, University of California, Santa Barbara