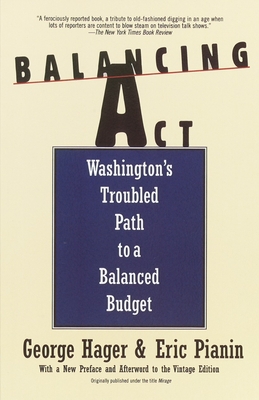 Balancing Act: Washington's Troubled Path to a Balanced Budget (Paperback)
Washington's Troubled Path to a Balanced Budget
Vintage, 9780679756071, 368pp.
Publication Date: September 29, 1998
* Individual store prices may vary.
or
Not Currently Available for Direct Purchase
Description
"A compelling book on budget-balancing, past and present. Not only is it a useful historical reference work but it is amazingly relevant to today's headlines." --Business Week Why did it take twenty-five years to balance the federal budget? And why did that goal seem politically impossible up until the last possible moment? Why hasn't the nation achieved a single budget surplus since 1969? Why did the first Republican Congress since the 1950s fail so miserably to redeem its most important promise to voters? In Balancing Act, George Hager and Eric Pianin, two of the country's top political journalists, provide fascinating answers. The question of the deficit is the reigning obsession of modern politics. Never simply a quarrel over numbers, the deficit has always been a moral issue as well as a fiscal one--a bitter fight to the political death over competing ideas about the right to shape the nation's values and to proclaim publicly what those values are. Bringing key political players like Newt Gingrich, Bill Clinton, Ronald Reagan, and George Mitchell vividly to life, Hager and Pianin provide a gripping and revealing look at what goes on behind the closed doors of Capitol Hill. "Vivid . . . provocative . . . rich in anecdote and drama, Balancing Act] is a useful primer on the history of deficit spending"
--Los Angeles Times.
About the Author
George Hager is a reporter for The Congressional Quarterly, where he covers budget and appropriations in the House and Senate. Hager's detailed coverage of the way Congress and the White House budget and spend the nation's money has made him a regular commentator on a variety of radio and television news programs, including numerous appearances on C-Span. He lives and works in Washington, D.C.
Advertisement