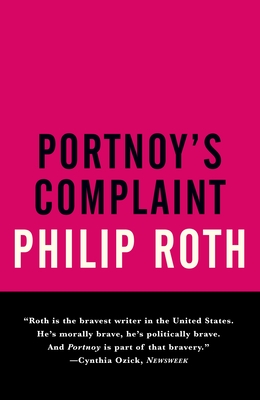 Portnoy's Complaint (Vintage International) (Paperback)
Vintage, 9780679756453, 304pp.
Publication Date: September 20, 1994
Description
Portnoy's Complaint n. after Alexander Portnoy (1933- )] A disorder in which strongly-felt ethical and altruistic impulses are perpetually warring with extreme sexual longings, often of a perverse nature. Spielvogel says: 'Acts of exhibitionism, voyeurism, fetishism, auto-eroticism and oral coitus are plentiful; as a consequence of the patient's "morality," however, neither fantasy nor act issues in genuine sexual gratification, but rather in overriding feelings of shame and the dread of retribution, particularly in the form of castration.' (Spielvogel, O. "The Puzzled Penis," Internationale Zeitschrift fur Psychoanalyse, Vol. XXIV, p. 909.) It is believed by Spielvogel that many of the symptoms can be traced to the bonds obtaining in the mother-child relationship. With a new Afterword by the author for the 25th Anniversary edition.
About the Author
In 1997 Philip Roth won the Pulitzer Prize for American Pastoral. In 1998 he received the National Medal of Arts at the White House and in 2002 the highest award of the American Academy of Arts and Letters, the Gold Medal in Fiction. He has twice won the National Book Award and the National Book Critics Circle Award. He has won the PEN/Faulkner Award three times. In 2005 The Plot Against America received the Society of American Historians' Prize for "the outstanding historical novel on an American theme for 2003-2004." Recently Roth received PEN's two most prestigious awards: in 2006 the PEN/Nabokov Award and in 2007 the PEN/Bellow Award for achievement in American fiction. Roth is the only living American novelist to have his work published in a comprehensive, definitive edition by the Library of America. In 2011 he received the National Humanities Medal at the White House, and was later named the fourth recipient of the Man Booker International Prize.
Praise For Portnoy's Complaint (Vintage International)…
"Roth is the bravest writer in the United States. He's morally brave, he's politically brave. And Portnoy is part of that bravery." —Cynthia Ozick, Newsday

"Deliciously funny...absurd and exuberant, wild and uproarious... a brilliantly vivid reading experience."--New York Times Book Review

"Simply one of the two or three funniest works in American fiction." —Chicago Sun-Times

"Touching as well as hilariously lewd.... Roth is vibrantly talented...as marvelous a mimic and fantasist as has been produced by the most verbal group in human history." —Alfred Kazin, New York Review of Books
Advertisement