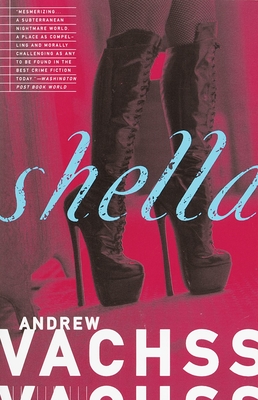 Shella (Paperback)
Vintage Crime/Black Lizard, 9780679756811, 240pp.
Publication Date: August 23, 1994
Description
From the author of the acclaimed Burke private-eye series comes an ambitious and chilling novel that shows us not only what evil is, but where it comes from. For Shella is nothing less than a tour of evil's spawning ground, conducted by one of its natural predators.

He is called "Ghost" because he is so nondescript as to be invisible and because he slays with such reflexive ease that he might be one of the dead. Once he traveled with a woman who was called "Shella" -- because those who had treated her as a horrendously ill-used child had tried to make her come out of her shell. Now Shella has vanished in a wilderness of strip clubs and peep shows, and Ghost is looking for her, guided by a killer's instinct and the recognition that can only exist between two people who have been damaged past the point of no return. The result is Andrew Vachss's most compelling work to date, the thriller reimagined as a bleak romance of the damned.
About the Author
Andrew Vachss, an attorney in private practice specializing in juvenile justice and child abuse, is the country s best recognized and most widely sought after spokesperson on crimes against children. He is also a bestselling novelist and short story writer, whose works include Flood (1985), the novel which first introduced Vachss series character Burke, Strega (1987), Choice of Evil (1999), and Dead and Gone (2000). His short stories have appeared in "Esquire," "Playboy," and "The Observer," and he is a contributor to "ABA Journal," "Journal of Psychohistory," "New England Law Review," "The New York Times," and "Parade."

Vachss has worked as a federal investigator in sexually transmitted diseases, a caseworker in New York, and a professional organizer. He was the director of an urban migrants re-entry center in Chicago and another for ex-cons in Boston. After managing a maximum-security prison for violent juvenile offenders, he published his first book, a textbook, about the experience. He was also deeply involved in the relief effort in Biafra, now Nigeria.

For ten years, Vachss law practice combined criminal defense with child protection, until, with the success of his novels, it segued exclusively into the latter, which is his passion. Vachss calls the child protective movement a war, and considers his writing as powerful a weapon as his litigation."
Praise For Shella…
"A noir archetype as bare as unfinished furniture. The plot...has been sanded down into a taut monofilament... The prose in Shella is boiled to the bone." --Village Voice

"Vachss tells his story in an understated shorthand.... He seems bottomlessly knowledgeable...about the depth and variety of human twistedness." --The New York Times
Advertisement