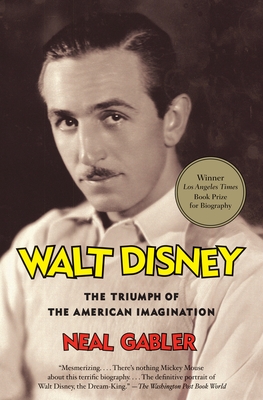 Walt Disney
The Triumph of the American Imagination
Paperback

* Individual store prices may vary.
Other Editions of This Title:
Digital Audiobook (11/20/2006)
Digital Audiobook (11/6/2006)
Description
The definitive portrait of one of the most important cultural figures in American history: Walt Disney.
Walt Disney was a true visionary whose desire for escape, iron determination and obsessive perfectionism transformed animation from a novelty to an art form, first with Mickey Mouse and then with his feature films–most notably Snow White, Fantasia, and Bambi. In his superb biography, Neal Gabler shows us how, over the course of two decades, Disney revolutionized the entertainment industry. In a way that was unprecedented and later widely imitated, he built a synergistic empire that combined film, television, theme parks, music, book publishing, and merchandise. Walt Disney is a revelation of both the work and the man–of both the remarkable accomplishment and the hidden life.
Winner of the Los Angeles Times Book Prize for Biography
USA Today Biography of the Year
Praise For Walt Disney: The Triumph of the American Imagination…
"Mesmerizing. . . . There's nothing Mickey Mouse about this terrific biography. . . . The definitive portrait of Walt Disney, the Dream-King."
—Washington Post Book World
 
"Gabler's restless eye invigorates each page. . . . Part of the author's formidable achievement is to take the intricacies of Disney's devoted artistry and intertwine them with [his] life."
—Los Angeles Times Book Review
 
"Far outshines any previous Disney bio, both in scope and in specificity. The domestic details are revelatory. . . . Walt Disney is looking at us–seemingly for the first time."
—Entertainment Weekly
 
"Illuminating. . . . Engrossing. . . . Gabler paints a vivid portrait."
—The New York Times Book Review
Vintage, 9780679757474, 912pp.
Publication Date: October 9, 2007
About the Author
Neal Gabler is the author of five books: An Empire of Their Own: How the Jews Invented Hollywood, Winchell: Gossip, Power and the Culture of Celebrity, Life the Movie: How Entertainment Conquered Reality,  Walt Disney: The Triumph of the American Imagination, and, most recently, Barbra Streisand: Redefining Beauty, Femininity and Power for the Yale Jewish Lives series. His essays and articles have appeared in numerous newspapers and magazines, including The Atlantic, Vanity Fair, Esquire, Playboy, Newsweek, and Vogue, and he has been the recipient of two Los Angeles Times Book Prizes, Time magazine's nonfiction book of the year, USA Today's biography of the year, a National Book Critics Circle nomination, a Guggenheim Fellowship, a Public Policy Scholarship at the Woodrow Wilson Center, a Shorenstein Fellowship at the Harvard Kennedy School, and a Patrick Henry Fellowship at Washington College's C.V. Starr Center. He has also served as the chief nonfiction judge of the National Book Awards. Gabler is currently a professor for the MFA program at Stonybrook Southampton.