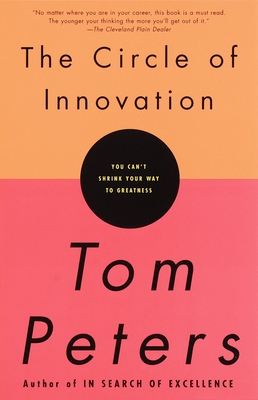 The Circle of Innovation (Paperback)
Vintage Books USA, 9780679757658, 544pp.
Publication Date: May 25, 1999
Description
In 1982, business guru Tom Peters co-authored In Search of Excellence, one of the most influential business guides of all time. More recently, through 400 seminars in 47 states and 22 countries, Peters reexamined, refined and reinvented his views on innovation--the #1 survival strategy, he asserts, for businesses of the next millennium.
The Circle of Innovation brings these seminars--and Peters' contagious passion--to the reader in a landmark book. Through bold graphics, astounding facts and figures, and quotes whose sources range from Emile Zola to Steve Jobs, Peters blows the lid off accepted management styles. Here is a book that will open your eyes to new ways of envisioning the challenges of today's world. Here, too, is a practical guide that will teach you how to:
- reverse the rising tide of product and service "commoditization" and foster uniqueness
- capitalize on the skyrocketing purchasing power of women
- convert sluggish staff into vital centers of intellectual capital accumulation
- build systems of elegance and beauty
- liberate your creativity and individual leadership style
Whether you manage a six-person department or a 60,000-body behemoth, The Circle of Innovationempowers you to transform your organization, your career, yourself. Inspiring, timely, this blueprint for success is pure Peters--a handbook as energetic as it is profound.
About the Author
Tom Peters is the co-author of In Search of Excellence (with Robert H. Waterman, Jr.), and A Passion for Excellence (with Nancy Austin), and the author of Thriving on Chaos, Liberation Management, The Tom Peters Seminar, and The Pursuit of Wow!. He is the founder of the Tom Peters Group in Palo Alto, California, and lives mostly on American Airlines, or with his family on a farm in Vermont or an island off the Massachusetts coast. Thanks to the information technology revolution he can be reached at tompeters@businessedge.net From the Hardcover edition.
Praise For The Circle of Innovation…
"[A]...breakthrough for the genre....Peters is not only the father of the postmodern corporation...he may well have produced the first piece of postmodern management literature."--Los Angeles Times

"No matter where you are in your career, this book is a must read.  The younger your thinking the more you'll get out of it."  --The Cleveland Plain Dealer

"A manual for businesses that want to survive and thrive in a world continually undergoing change."  --St. Petersburg Times

"Tom Peters has done it again."--J.W. Marriot, Jr., CEO, Marriot International, Inc.

"[Peters] yields potent insights...his keen attention to the human element in organizational growth and change shines through...No cutting-edge manager can afford to ignore it."--Publishers Weekly
Advertisement