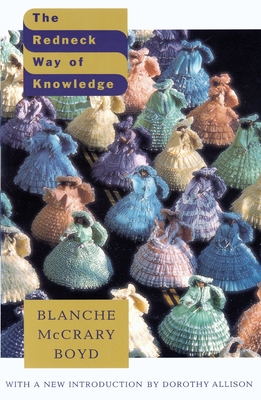 The Redneck Way of Knowledge (Paperback)
Vintage, 9780679757672, 176pp.
Publication Date: January 15, 1995
* Individual store prices may vary.
Description
This intoxicating book by the author of The Revolution of Little Girls combines autobiography, reporting, and the dressed-up lies we call fiction. An underground classic since its initial publication, it is the wildly funny personal testament of Blanche McCrary Boyd, sixties radical and born-again Southerner, a lesbian with an un-P.C. passion for skydiving and stock-car racing, a graduate of Esalen and kundalini yoga who now takes her altered states "raw, like oysters."

The Redneck Way of Knowledge is about family reunions and kamikaze love affairs. It is about crashing an arts festival with two precociously decayed Charleston aristocrats and watching the Pope deliver Communion at Yankee Stadium. It is about the selves we try on and slough off on the way to becoming who we are. Throughout, Blanche Boyd travels the expressway between the realm of the senses and the state of grace, and reports on the journey in prose that combines riotous humor, diamond-hard intelligence, and savage lyricism.
About the Author
Blanche McCrary Boyd is Professor of English and Writer-in-Residence at Connecticut College, as well as the author of four novels and a collection of essays. Her awards include a Guggenheim Fellowship (1993–1994), a National Endowment for the Arts Fiction Fellowship (1988), a Creative Writing Fellowship from the South Carolina Arts Commission (1982–1983), a Wallace Stegner Fellowship in Creative Writing from Stanford University (1967–1968), the Lambda Literary Award (1991), and the Ferro-Grumley Award (1991). She is influenced by the state she was born in, South Carolina, and her work is often set in the South where her plots focus on gender confusion.
Praise For The Redneck Way of Knowledge…
"Wonderful ... a lot of hard drinking, vivid insights, and belly laughs." -- People

"Marvelous ... Boyd resembles a cross between Joan Didion and Hunter Thompson, [but] her original voice makes these tales her own." -- Philadelphia Inquirer

"Impressive ... superb ... Boyd writes brilliantly. [The Redneck Way of Knowledge is] the best kind of social criticism." -- The Nation