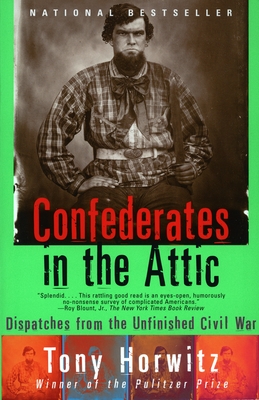 Confederates in the Attic
Dispatches from the Unfinished Civil War (Vintage Departures)
Paperback

* Individual store prices may vary.
Other Editions of This Title:
Digital Audiobook (7/3/2000)
Digital Audiobook (11/18/2013)
Description
National Bestseller 

For all who remain intrigued by the legacy of the Civil War -- reenactors, battlefield visitors, Confederate descendants and other Southerners, history fans, students of current racial conflicts, and more -- this ten-state adventure is part travelogue, part social commentary and always good-humored. 
 
When prize-winning war correspondent Tony Horwitz leaves the battlefields of Bosnia and the Middle East for a peaceful corner of the Blue Ridge Mountains, he thinks he's put war zones behind him. But awakened one morning by the crackle of musket fire, Horwitz starts filing front-line dispatches again this time from a war close to home, and to his own heart.

Propelled by his boyhood passion for the Civil War, Horwitz embarks on a search for places and people still held in thrall by America's greatest conflict. The result is an adventure into the soul of the unvanquished South, where the ghosts of the Lost Cause are resurrected through ritual and remembrance.

In Virginia, Horwitz joins a band of 'hardcore' reenactors who crash-diet to achieve the hollow-eyed look of starved Confederates; in Kentucky, he witnesses Klan rallies and calls for race war sparked by the killing of a white man who brandishes a rebel flag; at Andersonville, he finds that the prison's commander, executed as a war criminal, is now exalted as a martyr and hero; and in the book's climax, Horwitz takes a marathon trek from Antietam to Gettysburg to Appomattox in the company of Robert Lee Hodge, an eccentric pilgrim who dubs their odyssey the 'Civil Wargasm.'

Written with Horwitz's signature blend of humor, history, and hard-nosed journalism, Confederates in the Attic brings alive old battlefields and the new 'classrooms, courts, country bars' where the past and the present collide, often in explosive ways. 

Tony Horwitz's new book, Spying on the South: An Odyssey Across the American Divide, is available now.
Praise For Confederates in the Attic: Dispatches from the Unfinished Civil War (Vintage Departures)…
"The freshest book about divisiveness in America that I have read in some time. This splendid commemoration of the war and its legacy . . . is an eyes-open, humorously no-nonsense survey of complicated Americans." —Roy Blount Jr., New York Times Book Review

"In this sparkling book Horwitz explores some of our culture's myths with the irreverent glee of a small boy hurling snowballs at a beaver hat. . . . An important contribution to understanding how echoes of the Civil War have never stopped." —USA Today

Horwitz's chronicle of his odyssey through the nether and ethereal worlds of Confederatemania is by turns amusing, chilling, poignant, and always fascinating. He has found the Lost Cause and lived to tell the tale a wonderfully piquant tale of hard-core reenactors, Scarlett O'Hara look-alikes, and people who reshape Civil War history to suit the way they wish it had come out. If you want to know why the war isn't over yet in the South, read Confederates in the Attic to find out." —James McPherson, author of Battle Cry of Freedom
Vintage, 9780679758334, 432pp.
Publication Date: February 22, 1999
About the Author
Tony Horwitz is a native of Washington, D.C., and a graduate of Brown University and Columbia University's Graduate School of Journalism. As a newspaper reporter he spent a decade overseas, mainly covering conflicts in Africa, the Middle East, and the Balkans for The Wall Street Journal. Returning to the U.S., he won the Pulitzer Prize for national reporting and wrote for The New Yorker before becoming a full-time author. In addition to Confederates in the Attic, his books include the national and New York Times bestsellers, Blue Latitudes, Baghdad Without a Map and A Voyage Long and Strange. His latest book, Midnight Rising, was named a New York Times Notable Book. Horwitz has also been a fellow at the Radcliffe Institute for Advanced Study at Harvard University and a history columnist for Smithsonian magazine. He is currently the president of the Society of American Historians. Horwitz lives in West Tisbury, Massachusetts with his wife Geraldine Brooks, their sons, dogs and alpacas.

Tony Horwitz's new book, Spying on the South: An Odyssey Across the American Divide, is available May 14th, 2019.