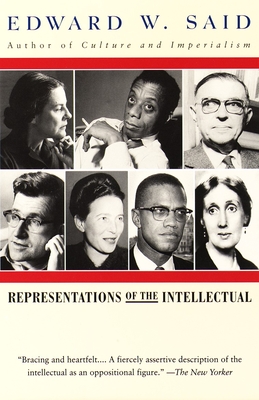 Representations of the Intellectual (Paperback)
Vintage, 9780679761273, 144pp.
Publication Date: April 2, 1996
Description
Celebrated humanist, teacher, and scholar, Edward W. Said here examines the ever-changing role of the intellectual today. In these six stunning essays - delivered on the BBC as the prestigious Reith Lectures - Said addresses the ways in which the intellectual can best serve society in the light of a heavily compromised media and of special interest groups who are protected at the cost of larger community concerns. Said suggests a recasting of the intellectual's vision to resist the lures of power, money, and specialization. in these powerful pieces, Said eloquently illustrates his arguments by drawing on such writers as Antonio Gramsci, Jean-Paul Sartre, Regis Debray, Julien Benda, and Adorno, and by discussing current events and celebrated figures in the world of science and politics: Robert Oppenheimer, Henry Kissinger, Dan Quayle, Vietnam, and the Gulf War. Said sees the modern intellectual as an editor, journalist, academic, or political adviser - in other words, a highly specialized professional - who has moved from a position of independence to an alliance with powerful institutional organizations. He concludes that it is the exile-immigrant, the expatriate, and the amateur who must uphold the traditional role of the intellectual as the voice of integrity and courage, able to speak out against those in power.

About the Author
Edward W. Said was born in 1935 in Jerusalem, raised in Jerusalem and Cairo, and educated in the United States, where he attended Princeton (B.A. 1957) and Harvard (M.A. 1960; Ph.D. 1964). In 1963, he began teaching at Columbia University, where he was University Professor of English and Comparative Literature. He died in 2003 in New York City. He is the author of twenty-two books which have been translated into 35 languages, including Orientalism (1978); The Question of Palestine (1979); Covering Islam (1980); The World, the Text, and the Critic (1983); Culture and Imperialism (1993); Peace and Its Discontents: Essays on Palestine and the Middle East Peace Process (1996); and Out of Place: A Memoir (1999). Besides his academic work, he wrote a twice-monthly column for Al-Hayat and Al-Ahram; was a regular contributor to newspapers in Europe, Asia, and the Middle East; and was the music critic for The Nation.
Advertisement