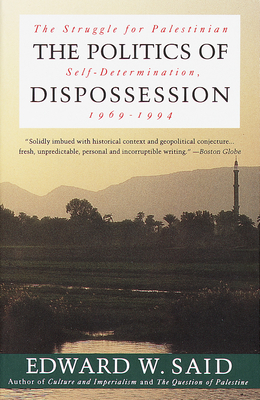 The Politics of Dispossession: The Struggle for Palestinian Self-Determination, 1969-1994 (Paperback)
The Struggle for Palestinian Self-Determination, 1969-1994
Vintage, 9780679761457, 512pp.
Publication Date: May 30, 1995
* Individual store prices may vary.
or
Not Currently Available for Direct Purchase
Description
Ever since the appearance of his groundbreaking The Question of Palestine, Edward Said has been America's most outspoken advocate for Palestinian self-determination. As these collected essays amply prove, he is also our most intelligent and bracingly heretical writer on affairs involving not only Palestinians but also the Arab and Muslim worlds and their tortuous relations with the West. In The Politics of Dispossession Said traces his people's struggle for statehood through twenty-five years of exile, from the PLO's bloody 1970 exile from Jordan through the debacle of the Gulf War and the ambiguous 1994 peace accord with Israel. As frank as he is about his personal involvement in that struggle, Said is equally unsparing in his demolition of Arab icons and American shibboleths. Stylish, impassioned, and informed by a magisterial knowledge of history and literature, The Politics of Dispossession is a masterly synthesis of scholarship and polemic that has the power to redefine the debate over the Middle East.
About the Author
Edward W. Said was born in 1935 in Jerusalem, raised in Jerusalem and Cairo, and educated in the United States, where he attended Princeton (B.A. 1957) and Harvard (M.A. 1960; Ph.D. 1964). In 1963, he began teaching at Columbia University, where he was University Professor of English and Comparative Literature. He is the author of twenty-two books which have been translated into 35 languages, including Orientalism (1978); The Question of Palestine (1979); Covering Islam (1980); Culture and Imperialism (1993); Peace and Its Discontents (1996); and Out of Place: A Memoir (1999). Besides his academic work, he wrote a twice-monthly column for Al-Hayat and Al-Ahram; was a regular contributor to newspapers in Europe, Asia, and the Middle East; and was the music critic for The Nation. He died in 2003 in New York City.
Praise For The Politics of Dispossession: The Struggle for Palestinian Self-Determination, 1969-1994…
"The most eloquent and visible voice of the Palestinian struggle in America.... [Said's] combination of flamboyant style and erudite radicalism, honesty and advocacy... makes The Politics of Dispossession necessary and informative for anyone interested in the complexities of the Palestinian question." -- San Francisco Chronicle



"This book should be read by anyone who wants to get beyond the shallow stereotypes that bedevil American thinking on the Middle East." -- Robert Hughes
Advertisement