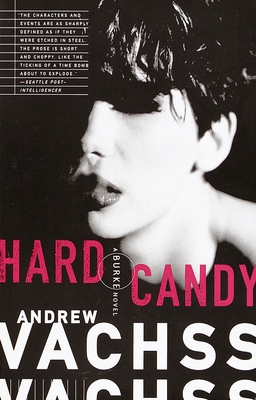 Hard Candy (Paperback)
Vintage Crime/Black Lizard, 9780679761693, 256pp.
Publication Date: July 4, 1995
Description
In this mercilessly compelling thriller, Burke--the private eye, sting artist, and occasional hit man who metes out a cruelly ingenious vengeance on those who victimize children--is up against a soft-spoken messiah, who may be rescuing runaways or recruiting them for his own hideous purposes. But in doing so Burke becomes a target for an entire Mafia family, a whore with a heart of cyanide, and a contract killer as implacable as a heat-seeking missile. Written with Vachss's signature narrative overdrive--and his unnerving familiarity with the sub-basement of American crime--Hard Candy is vintage Burke.
About the Author
Andrew Vachss, an attorney in private practice specializing in juvenile justice and child abuse, is the country's best recognized and most widely sought after spokesperson on crimes against children. He is also a bestselling novelist and short story writer, whose works include Flood (1985), the novel which first introduced Vachss' series character Burke, Strega (1987), Choice of Evil (1999), and Dead and Gone (2000). His short stories have appeared in Esquire, Playboy, and The Observer, and he is a contributor to ABA Journal, Journal of Psychohistory, New England Law Review, The New York Times, and Parade. Vachss has worked as a federal investigator in sexually transmitted diseases, a caseworker in New York, and a professional organizer. He was the director of an urban migrants re-entry center in Chicago and another for ex-cons in Boston. After managing a maximum-security prison for violent juvenile offenders, he published his first book, a textbook, about the experience. He was also deeply involved in the relief effort in Biafra, now Nigeria. For ten years, Vachss' law practice combined criminal defense with child protection, until, with the success of his novels, it segued exclusively into the latter, which is his passion. Vachss calls the child protective movement "a war," and considers his writing as powerful a weapon as his litigation.
Praise For Hard Candy…
"The characters and events are as sharply defined as if they were etched in steel. The prose is short and choppy, like the ticking of a time bomb about to explode." —Seattle Post-Intelligencer

"Torrid, gritty, frightening, compelling." —The Cleveland Plain Dealer

"Burke fills a void.... With his soiled white hat, this Lone Ranger...asks difficult questions while shining light into the darkest recesses." —Chicago Tribune

"There's no way to put a [Vachss book] down once you've begun.... The plot hooks are engaging and the one-liners pierce like bullets." —Detroit Free Press
Advertisement