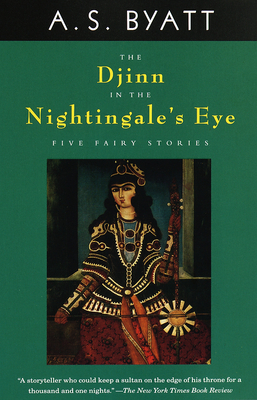 The Djinn in the Nightingale's Eye (Vintage International) (Paperback)
Vintage, 9780679762225, 288pp.
Publication Date: October 27, 1998
* Individual store prices may vary.
Description
The magnificent title story of this collection of fairy tales for adults describes the strange and uncanny relationship between its extravagantly intelligent heroine--a world renowned scholar of the art of story-telling--and the marvelous being that lives in a mysterious bottle, found in a dusty shop in an Istanbul bazaar. As A.S. Byatt renders this relationship with a powerful combination of erudition and passion, she makes the interaction of the natural and the supernatural seem not only convincing, but inevitable.

The companion stories in this collection each display different facets of Byatt's remarkable gift for enchantment. They range from fables of sexual obsession to allegories of political tragedy; they draw us into narratives that are as mesmerizing as dreams and as bracing as philosophical meditations; and they all us to inhabit an imaginative universe astonishing in the precision of its detail, its intellectual consistency, and its splendor.

"A dreamy treat.... It is not merely strange, it is wondrous."
--Boston Globe

"Alternatingly erudite and earthy, direct and playful.... If Scheherazade ever needs a break, Byatt can step in, indefinitely."
--Chicago Tribune

"Byatt's writing is crystalline and splendidly imaginative.... These [are] perfectly formed tales."
--Washington Post Book World
About the Author
A.S. Byatt is the author of the novels Possession (winner of the Booker Prize in 1990), The Game, and the sequence The Virgin in the Garden, Still Life, and Babel Tower. She has also written two novellas, published together as Angels and Insects, and four collections of shorter works, including The Matisse Stories and The Djinn in the Nightingale's Eye. Educated at Cambridge, she was a senior lecturer in English at University College, London, before becoming a full-time writer in 1983. A distinguished critic as well as a novelist, she lives in London.