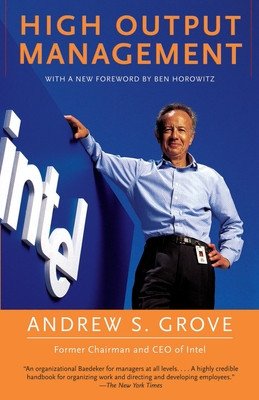 High Output Management
Paperback

* Individual store prices may vary.
Description
In this legendary business book and Silicon Valley staple, the former chairman and CEO of Intel shares his perspective on how to build and run a company. A practical handbook for navigating real-life business scenarios and a powerful management manifesto with the ability to revolutionize the way we work. 

The essential skill of creating and maintaining new businesses—the art of the entrepreneur—can be summed up in a single word: managing. Born of Grove's experiences at one of America's leading technology companies (as CEO and employee number three at Intel), High Output Management is equally appropriate for sales managers, accountants, consultants, and teachers, as well as CEOs and startup founders. Grove covers techniques for creating highly productive teams, demonstrating methods of motivation that lead to peak performance. 

"Generous enough with advice and observations to be required reading." —The Wall Street Journal
Praise For High Output Management…
"An organizational Baedeker for managers at all levels. . . . A highly credible handbook for organizing work and directing and developing employees." —The New York Times

"[Andy's] book played a big role in shaping my management style." —Mark Zuckerberg, cofounder and CEO of Facebook

"A good book, generous enough with advice and observations to be required reading." —The Wall Street Journal

"A great book. . . . Its elementary prescriptions form the basis of a highly effective management style." —San Francisco Chronicle

"An important book which says some very important things . . . beautifully and with style." —Peter Drucker 

"High Output Management is a bible that every entrepreneur and every manager in the country should look at, read and understand." —Bill Campbell, former Intuit CEO

"Andy exemplifies the best of Silicon Valley. Andy built the model for what a high quality Silicon Valley company could be." —Marc Andreessen, creator of the original Mosaic and Netscape web browsers
Vintage, 9780679762881, 272pp.
Publication Date: August 29, 1995
About the Author
Andrew S. Grove emigrated to the United States from Hungary in 1956. He participated in the founding of Intel, and became its president in 1979 and chief executive officer in 1987. He was chosen as Time magazine's Man of the Year in 1997. In 1998, he stepped down as CEO of Intel, and retired as chairman of the board in 2004. Grove taught at the Stanford University Graduate School of Business for twenty-four years. He died in 2016.