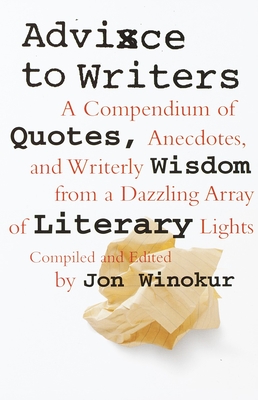 Advice to Writers: A Compendium of Quotes, Anecdotes, and Writerly Wisdom from a Dazzling Array of Literary Lights (Paperback)
A Compendium of Quotes, Anecdotes, and Writerly Wisdom from a Dazzling Array of Literary Lights
Vintage, 9780679763413, 240pp.
Publication Date: May 9, 2000
Description
In Advice to Writers, Jon Winokur, author of the bestselling The Portable Curmudgeon, gathers the counsel of more than four hundred celebrated authors in a treasury on the world of writing. Here are literary lions on everything from the passive voice to promotion and publicity: James Baldwin on the practiced illusion of effortless prose, Isaac Asimov on the despotic tendencies of editors, John Cheever on the perils of drink, Ivan Turgenev on matrimony and the Muse. Here, too, are the secrets behind the sleight-of-hand practiced by artists from Aristotle to Rita Mae Brown. Sagacious, inspiring, and entertaining, Advice to Writers is an essential volume for the writer in every reader.
About the Author
Jon Winokur is the author of a dozen books, including The Portable Curmudgeon and The Rich Are Different. He lives in Pacific Palisades, California.
Praise For Advice to Writers: A Compendium of Quotes, Anecdotes, and Writerly Wisdom from a Dazzling Array of Literary Lights…
"Best advice I've ever received: Finish."  --Peter Mayle

"Cut out all those exclamation marks. An exclamation mark is like laughing at your own joke."  --F. Scott Fitzgerald

"Make your characters want something right away even if it's only a glass of water. Characters paralyzed by the meaninglessness of modern life still have to drink water from time to time."  --Kurt Vonnegut
Advertisement