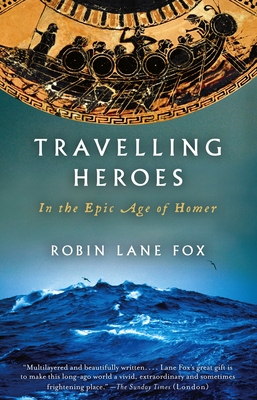 Travelling Heroes: In the Epic Age of Homer (Paperback)
In the Epic Age of Homer
Vintage Books USA, 9780679763864, 465pp.
Publication Date: March 9, 2010
* Individual store prices may vary.
or
Not Currently Available for Direct Purchase
Description
The myths of the ancient Greeks have inspired us for thousands of years. Where did the famous stories of the battles of their gods develop and spread across the world? The celebrated classicist Robin Lane Fox draws on a lifetime's knowledge of the ancient world, and on his own travels, answering this question by pursuing it through the age of Homer. His acclaimed history explores how the intrepid seafarers of eighth-century Greece sailed around the Mediterranean, encountering strange new sights volcanic mountains, vaporous springs, huge prehistoric bones and weaving them into the myths of gods, monsters and heroes that would become the cornerstone of Western civilization.
About the Author
Robin Lane Fox is a Fellow and Garden Master of New College, Oxford, and a University Reader in Ancient History. His books include Alexander the Great, Pagans and Christians, The Unauthorized Version, and The Classical World. Since 1970 he has also been gardening correspondent for the Financial Times.
Praise For Travelling Heroes: In the Epic Age of Homer…
"Multilayered and beautifully written. . . . [Lane Fox's] great gift is to make this long-ago world a vivid, extraordinary and sometimes frightening place. Like Homer's yearning traveller, Lane Fox longs to be there, and his longing is contagious."
—Elizabeth Speller, The Sunday Times (London)
 
"Full of wit and suspense. . . . Lane Fox argues his case with tremendous style and verve."
—Mary Beard, Financial Times
 
"A fascinating quest . . . that illuminates the roots of Greek thought and ideas that have shaped our own world and philosophies. . . . Lane Fox is a lively writer."
—Lois D. Atwood, The Providence Journal
 
"Exciting. . . . With his usual panache, [Lane Fox] displays encyclopaedic erudition alongside an unusually wide historical and geographical scope. The pleasure and the education offered by this book lie in the stylishly presented detail."
—Edith Hall, The Times Literary Supplement (London)
 
"As we follow [Lane Fox] through the pages of this learned, original and ceaselessly intriguing book, we find a strange and alien landscape opening up before us, one so remote that it had hitherto seemed lost to utter darkness. . . . This is a wonderful book."
—Tom Holland, The Spectator (London)
 
"Original, daring, and arguably life-enhancing. . . . Lane Fox [writes] with a sweeping narrative flourish worthy of a cinematographer or screenwriter . . . seasoned and leavened with a wit that only writing can afford."
—Paul Cartledge, The Independent (London)
 
"Lane Fox has spent his long and distinguished career negotiating a broader intellectual highway, and leading a wide range of readers along it. Travelling Heroes takes us on a dazzling journey throughout the Mediterranean world of the 8th century BC [and] he evokes the period brilliantly."
—The Telegraph (London)
Advertisement