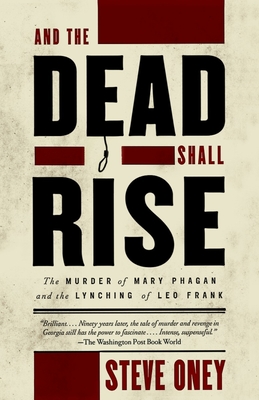 And the Dead Shall Rise (Paperback)
The Murder of Mary Phagan and the Lynching of Leo Frank
Vintage, 9780679764236, 784pp.
Publication Date: October 12, 2004
* Individual store prices may vary.
Description
In 1913, 13-year-old Mary Phagan was found brutally murdered in the basement of the Atlanta pencil factory where she worked. The factory manager, a college-educated Jew named Leo Frank, was arrested, tried, and convicted in a trial that seized national headlines. When the governor commuted his death sentence, Frank was kidnapped and lynched by a group of prominent local citizens.

Steve Oney's acclaimed account re-creates the entire story for the first time, from the police investigations to the gripping trial to the brutal lynching and its aftermath. Oney vividly renders Atlanta, a city enjoying newfound prosperity a half-century after the Civil War, but still rife with barely hidden prejudices and resentments. He introduces a Dickensian pageant of characters, including zealous policemen, intrepid reporters, Frank's martyred wife, and a fiery populist who manipulated local anger at Northern newspapers that pushed for Frank's exoneration. Combining investigative journalism and sweeping social history, this is the definitive account of one of American history's most repellent and most fascinating moments.
About the Author
Steve Oney was educated at the University of Georgia and at Harvard, where he was a Nieman Fellow. He worked for many years as a staff writer for the Atlanta Journal-Constitution Magazine. He has also contributed articles to many national publications, including Esquire, Playboy, Premiere, GQ and the New York Times Magazine. His stories have been anthologized in The Best American Sports Writing, 2006 and The Best American Magazine Writing, 2008. Oney lives in Los Angeles with his wife, Madeline Stuart.
Praise For And the Dead Shall Rise: The Murder of Mary Phagan and the Lynching of Leo Frank…
"Brilliant. . . . Ninety years later, the tale of murder and revenge in Georgia still has the power to fascinate. . . . Intense, suspenseful." --The Washington Post Book World

"A major achievement . . . A fine work of history." –Los Angeles Times Book Review

"Compelling and relentlessly preoccupying. . . . Oney dapples his volume with vibrant, multihued street scenes and thumbnail portraits. You can almost hear the squealing brakes and clanging bells of the trolley cars outside the courtroom." –The Houston Chronicle

"Invites comparison to Norman Mailer's Executioner's Song. The book packs a wallop at many levels, from the mythic Southern characters to the violent infrastructure of our cultural memory." –The New York Times

"A grim and teeming ghost story. . . . A monumental folk parable of innocent suffering and a blind, brutal urge for retribution that passes finally into the simple, stark awe and pity of tragedy." –The New York Review of Books