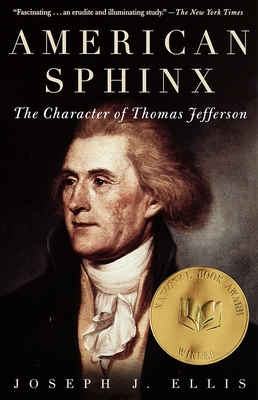 American Sphinx: The Character of Thomas Jefferson (Paperback)
The Character of Thomas Jefferson
Vintage Books USA, 9780679764410, 464pp.
Publication Date: April 7, 1998
Description
Following Thomas Jefferson from the drafting of the Declaration of Independence to his retirement in Monticello, Joseph J. Ellis unravels the contradictions of the Jeffersonian character. He gives us the slaveholding libertarian who was capable of decrying mescegenation while maintaing an intimate relationship with his slave, Sally Hemmings; the enemy of government power who exercisdd it audaciously as president; the visionarty who remained curiously blind to the inconsistencies in his nature. American Sphinx is a marvel of scholarship, a delight to read, and an essential gloss on the Jeffersonian legacy.
About the Author
JOSEPH J. ELLIS is the author of many works of American history including Founding Brothers: The Revolutionary Generation, which was awarded the Pulitzer Prize; and American Sphinx: The Character of Thomas Jefferson, which won the National Book Award. He recently retired from his position as the Ford Foundation Professor of History at Mount Holyoke College and lives in Amherst, Massachusetts, with his wife and their youngest son.
Praise For American Sphinx: The Character of Thomas Jefferson…
"Fascinating … an erudite and illuminating study." —The New York Times
 
"This elegant book on Jefferson sets a standard—history at its best." —Chicago Tribune Editor's Choice
 
"A brilliant, unconventional look at Jefferson … beautifully written, cogently argues, full of both zealous scholarship and lively imagination." —Cleveland Plain Dealer
 
"Magnificent.… Ellis has a Jeffersonian gift for language." —Newsweek
 
"Lively and provocative … first-rate." —David McCullough
Advertisement