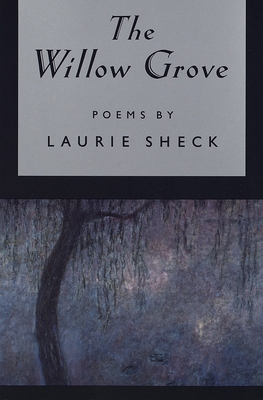 The Willow Grove (Paperback)
Knopf Publishing Group, 9780679766032, 80pp.
Publication Date: January 12, 1998
* Individual store prices may vary.
or
Not Currently Available for Direct Purchase
Description
Laurie Sheck interweaves the contemporary with the mythic, creating a realm in which such things as radios, skyscrapers, expressways, and mannequins are at once familiar and strange; immediate, yet tinged with the light of distance and myth. It is a realm where faces on a television newscast disappear "into the undertow / of hunger for the next thing and the next," and mannequins "stand in their angelic armor."
Placed at intervals throughout these pages is a series of poems entitled "From The Book of Persephone," poems that explore the underworld through a fractured contemporary lens, depicting it as a psychological landscape of isolation and desire.
As Mona Van Duyn said of Laurie Sheck's previous book, Io at Night, "When her sensibility and the reverberating myth are in perfect conjunction, the extraordinary happens: the mythical figure enters the poet's imagination so consumingly that it is impossible to tell whose life, whose feelings fill the form on the page."
"From the Hardcover edition.
About the Author
Laurie Sheck was born in The Bronx, New York, and now lives in Princeton, New Jersey, with her husband and daughter. She has received many awards for her poetry, including a Guggenheim Fellowship, and fellowships from the National Endowment for the Arts, the Ingram Merrill Foundation, and the New Jersey State Council for the Arts. She has published her poems widely in such magazines as The New Yorker, The Paris Review, and Ploughshares, and has had work included in The Pushcart Prize anthology and Best American Poetry 1991. She has taught at several colleges anti universities. "From the Hardcover edition."
Praise For The Willow Grove…
"It's daring of Laurie Sheck to have made the myths surrounding Io so crucial to the central tenor of her poems, but the themes of exile, distance, and freedom from the falsehoods of secular appearance weave the title into her images, along with her own dedicated attention and moral passion." -- W. S. Merwin

"Io at Night is a rare achievement: A delicate, truly poetic sensibility has internalized and transmuted powerful myth, making memorable verse. Central to the collection is the classical myth of Io, with its resonant themes of exile, loss, and the longing for return, that provides explicit text for five poems and subtext for the rest of the collection. Io herself becomes both a living presence and metaphor for a fullness, whether of knowledge or being, only rarely achieved."

-- Robert E. Hosmer Jr., America

"Sheck's subjects are unabashedly big and not the least bit quaint. In her best poems the personal and mythic conspire to create an altogether memorable human story." -- Henri Cole, Poetry
Advertisement